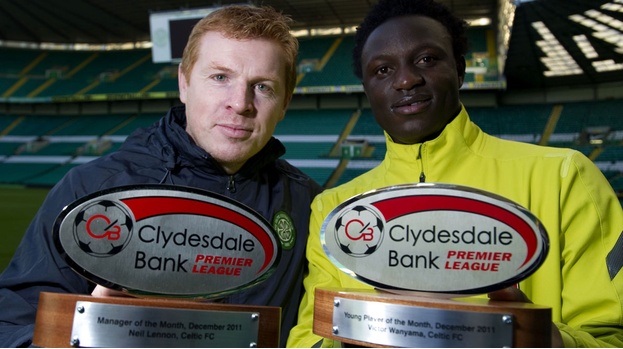 Victor Wanyama collected the Scottish Premier League's Young Player of the Month award and vowed to continue working to improve his game.

Wanyama has impressed in his first season at Celtic since moving from Beerschot and has already become a key performer for Neil Lennon's side.

The 20-year-old said that he has happy with his efforts so far but that fans could look forward to him improving over time.

"I have been working hard and I am looking forward to getting better, game by game," he said.

"The sky is the limit. I don't know how many per cent I will get better but every game I learn two or three things so I get better in the next game.

"I am happy for my team-mates and they were very happy for me (to win the award), and said there were no doubts that I deserved it."

Lennon picked up an award of his own, being named Manager of the Month, and enthused about the progress made by Wanyama in recent weeks.

"I'm delighted for Victor," he said. "He plays the game in a really uncomplicated way.

"He is very strong and technically very good.

"For someone of his age he shows great maturity on the pitch and great presence.

"You are always looking for that fluctuation in form with young players but he has been very consistent."