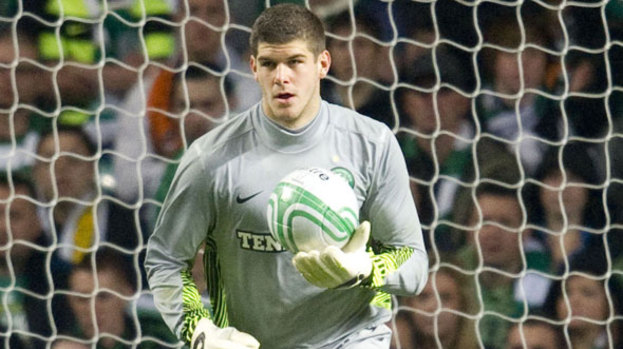 It's been a busy day at Hampden for the Scottish Premier League, with a vote on changing how clubs vote postponed followed by the announcement of an Under-20 league as of next season.
Rangers' takeover and the SPL's planned rule changes continue to dominate matters. There's also the customary look abroad, as Nicolas Anelka gets a coaching gig and US Quevilly pull off a miracle to reach the French Cup final.
TODAY'S HEADLINES
SPL delay decision on voting reform
The SPL member clubs will consider a change to their voting procedures at a meeting on April 30.
SPL to create Under-20 league
All top flight clubs will take part in the new division, with SFL clubs also invited to apply for a place.
Neil Lennon: It would be difficult for Fraser Forster to leave Celtic
Talks are planned to secure the future of the on-loan goalkeeper.
Lee Wallace fighting for fitness to face former club
The Rangers defender is hoping to recover from an ankle injury in time to face Hearts next weekend.
Rangers bid remains on table - Ng
One of the three bidders for Rangers says his offer stands, despite proposed changes to sanctions for insolvent clubs. (BBC)
Brown - Fyvie better than Fulham
Rising star tipped as potential United or Arsenal player. (Sky Sports)
ICT stars hit the catwalk for Strictly
Gregory Tade, Andy Shinnie, Roman Golobart, Jonny Tuffey and Claude Gnakpa will be involved in a fashion show to launch the 2012 Strictly Inverness dance extravaganza. (Highland News)
St Johnstone goal machine Stevie May tipped for 'big, big future'
Stevie May has the potential to take the SPL by storm with St Johnstone, according to his temporary boss at Alloa, Paul Hartley. (Dundee Courier)
MUST READ
The SPL, Rangers and newco: Analysis of the proposed rule changes
An in-depth look at what the SPL's proposed rule changes would mean for its member clubs.
Nicolas Anelka becomes player-coach as Shanghai Shenhua move on assistants
The former France international has been elevated into a coaching position as the Chinese big spenders overhaul their managerial staff following their poor start to 2012. (Goal)
MUST WATCH
Amateur side US Quevilly pulled off yet another shock in the Coupe de France, seeing off top flight club Rennes to reach the final.
More About Football Talk