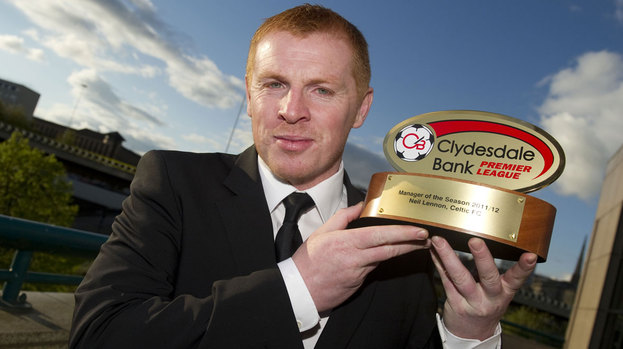 Neil Lennon has said that he has a plan to improve on his current squad but won't be drawn into overspending to achieve his aims.
Lennon, who was named as SPL Manager of the Year on Tuesday evening, is already working towards next season and hoping to make an impact on Europe in addition to domestic challenges.
Asked if the current financial crisis at Rangers would affect his work, he insisted the situation at Celtic's main rivals was irrelevant when it came to his own team.
"Regardless of what happens to Rangers, either this year on next year, it will have no relevance to what we are trying to do," Lennon said.
"I have no fear about all this affecting attempts to attract players in the summer."
He stated that he would not try to compete with wages on offer in England when pursuing targets but was hopeful that the lure of playing in Europe's premier competition could be key in landing players.
''I will have a go but I won't overpay," he said.
"A lot of clubs in England overpay and if they want to do that I will not begrudge the player a better deal elsewhere.
"You have a set a figure on what you're prepared to pay and the Champions League could be a real carrot."
Though accepting that club finances in England were at a different level from Scotland, Lennon was of the opinion that on the park, the gap was not as big as many believe.
''Scottish football gets a raw deal," he explained. "I am always banging the drum for Scottish football.
"I watch games in the Barclays Premier League and the Championship in England and the huge difference is the differential in the money.
'Apart from [the top six] teams, I think we could compete with the majority of teams in the Premier League and certainly in the Championship.
''I would think the other top teams in the SPL could certainly have a go in the Championship.''
Related articles
People who read this story also read