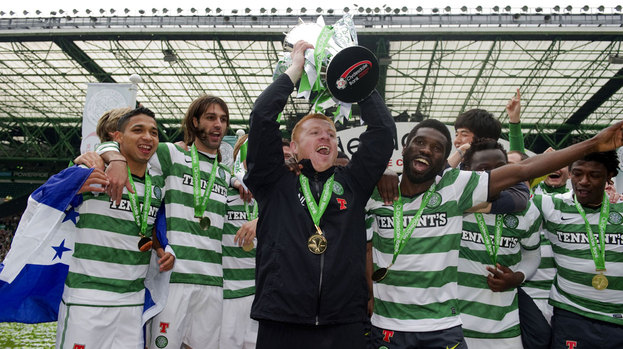 Celtic manager Neil Lennon has revealed that the club has been recruiting for next season and made a bid last week for a mystery player.
The Parkhead club were crowned as league champions on Sunday and Lennon took time out from his celebrations to explain that he would not be sitting back after domestic triumph.
The manager said that he intended to add new faces and that a formal offer had already been made for one unspecified player.
"I don't think we'll be complacent in that aspect," Lennon said.
"We bid for a player this week, in excess of £3 million, so already the wheels are in motion to bring in players early.
"I'm not telling you who it is and I'm not making it up."
As he prepares to make a challenge in the Champions league next season, Lennon also underlined his determination to hold on to striker Gary Hooper. The Englishman finished as SPL top goalscorer this season and scored every goal as Celtic defeated Hearts 5-0 in their final game.
Southampton have previously made offers to take the player but Celtic are not expecting the forward to leave, Lennon insisted.
"He's a special player and I'm delighted he's fulfilling all the talent we think he has," he added. "I'd like to think he'll be here next season.
"I think he is happy here but obviously there will be people out there who would pay for his talent, pay for his goals.
"He's a goalscorer and they are priceless in the game. We want to keep him and we'll do our very best to do that."
Related articles
People who read this story also read