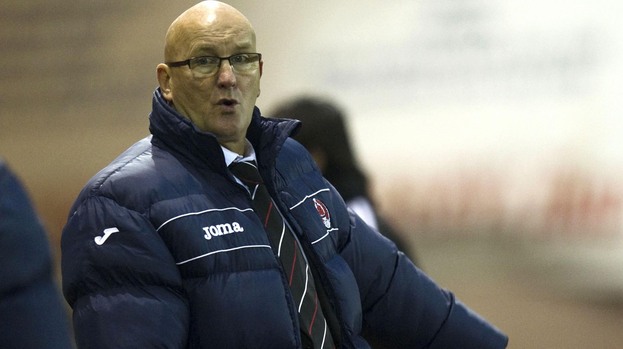 Clyde manager Jim Duffy has shown his squad what he thought of their 5-0 loss against Montrose at the weekend by withdrawing contract offers for nine players.
Duffy, who was appointed as Bully Wee manager in February last year, said he had come to the decision after a "period of reflection" following the result at Links Park on Saturday.
The result has now put Clyde second from bottom in the Third Division and left Duffy considering the best way to rebuild the team.
He told the club's website: "Prior to the Montrose game we had spoken to nine players with regards to the possibility of retaining them for next season but, after what I can only describe as a debacle on Saturday, all talks are on hold and all previous contract offers have been withdrawn.
"Getting beaten is one thing but the lack of a determined attitude by the squad was the biggest concern.
"Saturday's performance was not about a lack of ability, it was about mental attitude. In recent weeks, we have matched teams like Alloa, Stranraer and Peterhead and then we produce a really poor performance like that.
"Due to that performance, question marks are now raised in my mind. If I sign the players I had spoken to previously then what can I expect?
"I will now take my time and consider all options and if I decide to contact any of the nine players, I will do so in my own time but I need to be assured of their total commitment to Clyde.
"I've rarely felt as angry and frustrated after a match as I did last Saturday, but the decision I have since made was not done in the spur of the moment. It came after a period of reflection and I believe it was – and is – the right thing to do."
Duffy had seen Saturday's game as a chance to clinch eighth position and end the season on a positive note, however, the Bully Wee went two goals down in the first half and then were 5-0 down with 15 minutes still left on the clock.
However, while his reaction may not provide much reassurance to some of the squad's players, Duffy said it's also the chance for fringe players to secure their place for next season.
He said: "I'm not going to lose any sleep over the matter.
"The difference now is that before I had, in my mind, nine squad places filled, all places in the squad for next season are up for grabs.
"I have an open book as to who to sign and the current squad are in competition with every other player now.
"From the club's point of view, nothing has changed as we were always looking to strengthen within the framework of the budget available. We were looking to add at least one goalkeeper, a centre back, two strikers and some creativity in midfield and that work continues.
"However, if someone now approaches us in any position, I will consider them as opposed to saying that the position is taken."
Related articles
People who read this story also read