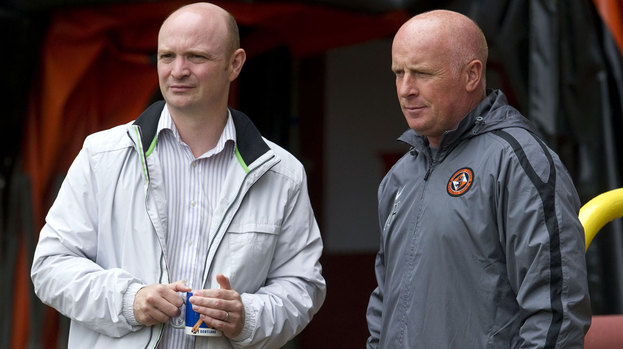 Dundee United manager Peter Houston has made a plea to the club's board to remain patient as he prepares to rebuild his team this summer.
The Scotland assistant boss found himself under pressure in October last year after his team's early-season struggles following the loss of several key players.
Chairman Stephen Thompson gave Houston his full backing before watching the Terrors rise up the table to end the season in fourth place.
With United set to lose Dusan Pernis, Scott Robertson, Paul Dixon, Garry Kenneth and Danny Swanson this summer, Houston has another rebuilding job on his hands.
But he expects his board to act differently this time around and allow him to develop the squad.
He told The Mail on Sunday: "I didn't think it was right that I was under pressure.
"At that time, it was simply because we were still trying to bed in a new team – and it might be the same next season.
"I'd like to think there would be understanding of that from the board.
"It always takes time – and it takes even longer when you can't make signings and it's young players having to grow up very quickly."
Houston has once again gone shopping in the Scottish Football League picking up Michael Gardyne from Ross County and Mark Millar from Falkirk.
It was United's League Cup exit to the Bairns on penalties that intensified speculation over Houston's future.
And looking back at the period, he said: "It turned out to be a really good season after the sticky spell in October.
"If I'd been sacked, I could have walked out with a very decent record – winning the Cup [in 2009] and finishing third then fourth.
"I didn't want to but, if they felt I wasn't the man for the job then fair enough."
Related articles
People who read this story also read