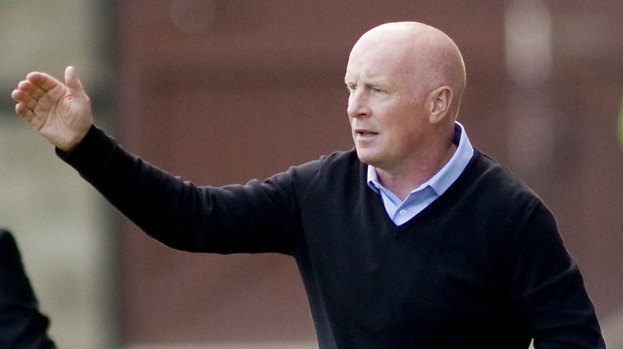 Five games gone, the venetian blinds on the transfer window fully pulled up and what better time to make snap judgements on the health of each SPL club?
The biggest worry at the start of the season appeared to be that there would be no teams capable of putting together even a slug in the Dead Sea's chance of competing with Celtic. From early suggestions this would seem to be false, but the problem is there are probably seven of them and they'll all take points from each other.
You wouldn't have thought it possible four months ago, but this weekend's top two showdown was between the reigning champions and Hibernian. (Double checks, rubs eyes, looks at date). Yes, Hibs. Despite an opening day shambles against Dundee United, Pat Fenlon's team seem to have got some semblance of focus and unity, and had performed impressively in wins over the two Saints and in the draw in the Edinburgh derby.
Still, they were up against a Celtic side which had reached the Champions League group stages mere days before and had the funding to complete a trio of signings on deadline day, grabbing their new players like Indiana Jones would his hat from under the ominously closing barrier.
Nikolas Ladislao Fedor Flores, or Miku to you and me, joined from Getafe, Efe Ambrose flew in from Israel, while Lassad Nouioui moved from Deportivo and stole Mehdi Taouil's SPL crown for the most number of extraneous vowels.
Celtic started in exactly the way a Champions League side might, picking up the lead through the unlikely source of Mikael Lustig. More on him later. The home side then failed spectacularly to heed the well intentioned advice of ABBA, and refused to take a chance (take a chance) to further their lead. Gary Hooper hit post and bar, Tony Watt got FIFA Soccer one-on-one syndrome (do I chip? Do I go for power? Do I walk it past? Do I… nyaarrrr!!!) while James Forrest and Victor Wanyama also missed chances.
While Lustig had been a cool head to give Celtic the opener, he was at least partly at fault for Hibernian's equaliser as the Swede and his goalkeeper allowed the predatory powers of, eh, Tim Clancy to get in between them to walk in a leveller.
While this is a vastly improved Hibernian side, the potential for the calamitous has not yet been exorcised. James McPake's own goal restored Celtic's lead after he blocked off Paul Hanlon's goal-line clearance. Still, there was time for Tom Cairney to pose the question of "what would Messi do" as he gaily skipped through a chasm of space to draw Hibernian level again.
Saturday's other three games brought precisely as many strikes as a Margaret Thatcher policy platform.
St Johnstone seem to be gearing up to play an old fashioned five man attack, given their over-representation in the forwards department. Steven McLean joined Nigel Hasselbaink, Gregory Tade, Craig Beattie and Rowan Vine this week, as Steve Lomas hoarded strikers like Pokemon. None of them could force a way past Peter Houston's Dundee United.
Equally, United were considerably under-par. Their main business of the window had been to keep Johnny Russell and Gary Mackay-Steven safely under lock and key, despite those pesky Terriers of Huddersfield Town hatching escape plans for the pair. Peter Houston successfully shooed any potential suitors by, in the mind of this writer, sitting dutifully on the Tannadice steps on a rocking chair and a Gandalf "none shall pass" magic stick.
English football's economics don't add up at the best of times, but apparently one Robin van Persie is equal to two Steven Fletchers, who is equal to two Jordan Rhodes, who is equal to around five Russells and G Mac-Ste. Oh what we'd do for two Steven Fletchers (answer – probably play neither of them).
Ross County are better at drawing than Rolf Harris, and their unbeaten record reached 39 matches as they hosted Kilmarnock. Both managers admitted that the match was far from a thriller. Derek Adams was the more pleased with his sides performance and less with the result, while Kenny Shiels was the exact opposite.
Speaking of which, the Kilmarnock boss suggested the fare on show was "anti-football" and both sides should be docked points for failing to entertain. We're never quite sure what anti-football is (Handball? Speedball 2? Swimming?) but few are qualified quite like Shiels to comment on sticking to a philosophy.
Aberdeen recorded a third consecutive goal-less draw when they faced St Mirren. It's very difficult to tell just where they are at the moment, having dominated possession and chances created in each of their last three matches, without winning any of the games. Craig Brown's switch to a more possession orientated style is certainly a less stodgy way of thinking than last season's setup, but it's hardly death by a thousand cuts if opponents get the time to put plasters on.
All of which meant that Motherwell and Hearts would be given the chance to go top of the table when they played on Sunday.
For Stuart McCall's side it was an all too straightforward victory, as they dismantled Terry Butcher's Inverness 4-1, with Michael Higdon getting a hat-trick. After a slow start Motherwell do appear to be moving in the right direction again, and move to the top of the division thanks to their win. Terry Butcher repeatedly called his own team's performance "diabolical", which literally means that it has the characteristics of the devil.
Things were equally fiendish for Hearts, who were made to "calm down, calm down" by Dundee after their trip to Liverpool. Ryan Conroy's third minute penalty was the only goal of the game, but it was the heroics of Rab Douglas which ensured Dundee won their first match since their return to the top flight. (warning, bad tabloid joke approaching) The former bouncer even said, "you're not getting in" to John Sutton's penalty to give Dundee maximum points in the SPL for the first time since April 2005 and the days of Brent Sancho.
In Brief
• We're far enough in to do this now, aren't we? Motherwell lead the table on nine points from five games, with Celtic on eight points from four matches and Hibs on the same having played a game more. • Dundee United and Ross County have seven points each, while St Mirren, Hearts, Kilmarnock and Aberdeen each have six points. • Dundee move away from the bottom to four points, one ahead of Inverness who are second from bottom. • St Johnstone are looking like a really bad Hellraiser costume, as they've only got two points.
Related articles
People who read this story also read