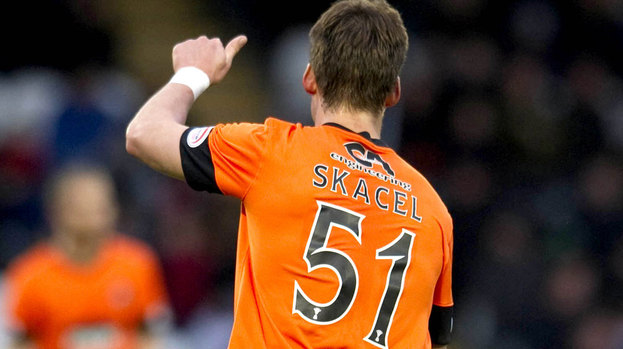 Dundee United manager Peter Houston has apologised to Hibernian fans for allowing new signing Rudi Skacel to choose shirt number 51.
The number refers to the Czech midfielder's part in former club Hearts' 5-1 win over their rivals in May's Scottish Cup final.
Skacel, 33, signed for the Tayside club on Friday and made his debut from the bench in their 1-0 win over St Mirren.
Houston, a former Hearts coach, said he hadn't realised the significance of the number until it was too late.
He said: "It's not my style to upset people.
"I said there were a few numbers available and he asked for 51.
"Call me naive but Gary Hooper wears 88 and Victor Wanyama wears 67 and I never thought of 51 being 5-1. Trust me, when I say that.
"It's registered straight away and, once you register it, you can't go back on it.
"I apologise to the Hibs fans. If I'd known, I wouldn't have given him the number.
"I'm not in the habit of trying to wind people up or noise other clubs up. Hibs are a fantastic club.
"Last night I was at Fir Park [at Motherwell's game against Hibs] doing TV and there were boys running down the aisles trying to have a go at me.
"I spoke to a couple of them and they were very reasonable.
"But I wouldn't have given Rudi the 51 if I'd thought about it clearly. It wasn't until the next day that someone mentioned it to me."
On the player's on-field contribution Houston added: "We've got Rudi until the end of January. I'm sure he's a player we'd like to keep.
"He was brilliant in negotiations, he's on nowhere near the kind of money he was probably on at Hearts.
"All he wants to do is play. Where I've got it wrong, is letting him pick the 51 without switching on to it."
Related articles
People who read this story also read