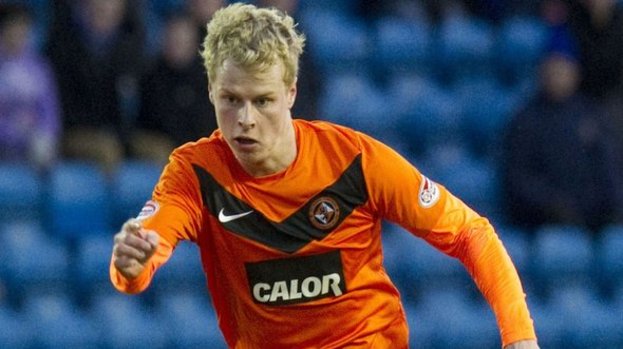 Dundee United winger Gary Mackay-Steven has said that the atmosphere at the club is one of the reasons for his PFA Scotland young player of the year nomination.
Mackay-Steven and team-mate Johnny Russell make up half of the shortlist, while top-scorer Jon Daly was nominated for the player of the year award.
The winger admits that the recognition has been far more than he ever expected when he joined Peter Houston's side last summer.
"It's a massive honour," he said. "I'm absolutely thrilled. When it's your fellow professionals who are voting, it means a lot.
"I was just looking to establish myself in the Dundee United team over the course of the season. I managed to do that around November and it has gone unbelievably for me. I couldn't have imagined it.
"Being with all the boys at Dundee United has helped. We're a close-knit bunch. We don't really take anything too seriously and just go out and play football.
"It has been enjoyable and being with the bunch we have at United has helped me."
This weekend will see the winger return to the scene of his most famous footballing moment so far; an outrageous piece of skill during the 5-1 demolition of St Johnstone at McDiarmid Park in February.
The winger knows that such a well-viewed highlight has helped raise his profile, and he hopes to have the platform to show a few more tricks from his repertoire.
"It's been kind of crazy since then," he said. "I got messages from everywhere and it has probably played quite a big part.
"I'm going back to the scene on Saturday so hopefully we can do a few more things. There are a few more, so we'll see."
United went on a six game winning streak in recent weeks, only to lose 3-1 to Aberdeen in their last game before the split. They currently sit five points behind Motherwell in the running for a place in the Champions League qualifiers.
Jon Daly believes that the pressure is all on Motherwell, and that his side will have to win all of their remaining games to have a chance of finishing ahead of Stuart McCall's side.
Daly said: "It's really Motherwell's place to lose. They've got a five-point gap on St Johnstone and six on ourselves. It's a big, big gap with 15 points to play for.
"We're looking for them to lose maybe three games in the run-in and us to win basically all of our games. The pressure is not really on us.
"We were in the bottom half of the table for a long part of the season. We always knew that once we got into our stride we could get into the top half.
"At that stage we were just looking at the top six and see where we were going from there."
Dundee United currently sit in fifth place in the SPL, one point behind this weekend's opponents, St Johnstone.