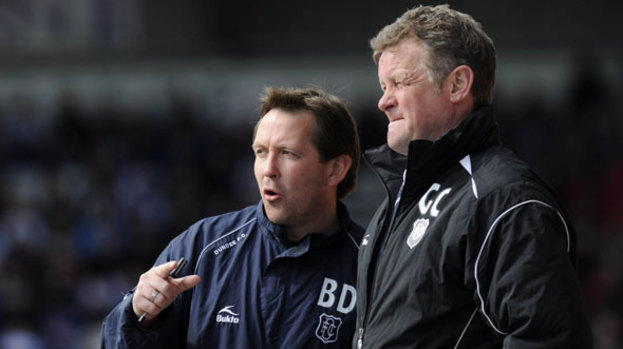 Gordon Chisholm and Billy Dodds have been let go by Dundee, as administrator Bryan Jackson begins a day of staff redundancies at Dens Park. The club formally went into administration on Thursday, having failed to settle a tax bill of £365,000, and staff will find out today whether or not they will be let go as part of necessary cutbacks.
A number of the first team squad are also expected to follow Chisholm and Dodds out of the door, with an official announcement scheduled for 3pm on Friday on the extent of the staff cuts.
Njazi Kuqi has confirmed himself as the first player to be let go. The Finnish striker, the younger brother of Derby County striker Shefki, only joined the club in September on a one-year contract. Eric Paton, Paul McHale and Colin McMenamin have also been let go, with six other players due to follow.
Conflicting reports have suggested anything between 10 and 20 members of Dundee's first team squad, as well as an undetermined amount of backroom staff at Dens Park, will be laid off.
Administrator Jackson, of firm PKF, has been given the task of trying to keep Dundee going on as limited a budget possible to keep them afloat, while searching for fresh investment to ensure the club's future. A press conference has been called for 2.30pm on Friday for an announcement on the severity of the redundancies.

Jackson was involved in the same process at Motherwell when they went into administration in 2002, letting go 19 players shortly after taking over at Fir Park.

Now the players in Dundee's expensively assembled squad face the same threat on Friday, with those kept on then having to shift their focus to a First Division game at Stirling Albion on Saturday.

Scottish Football League rules state any club going into administration face a number of penalties. But the severity of any sanctions, such a points deduction or transfer embargo, is at the behest of the league's board, with no fixed punishment set.

"The league have the power to take sanctions against the club but there is no specific punishment," SFL operations director David Thomson stated. "The SFL board treat each case on its own merits.

"It is too early for that at this stage. We would have to write to the club and give them the opportunity to reply. That's not something that will happen tomorrow or even early next week."
DUNDEE IN CRISIS