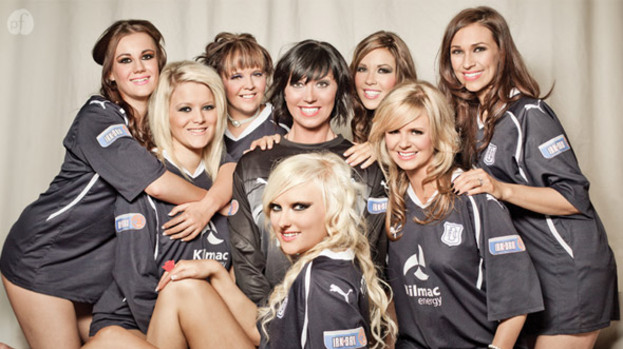 The wives and girlfriends of Dundee FC's players have been giving their all to raise money to keep the struggling First Division club afloat.
Posing in their underwear for a special fundraising calendar, in a photo shoot for Glasgow based Peachfur, the girls have been backing the Dees with a mixture of racy pictures and revealing poses.

Dundee were docked 25 points by the Scottish Football League last week for their money troubles, effectively condemning the club to relegation at the end of the season.

Among those taking part in the shoot were Mhairi Philp, who is Miss Dundee FC, the club's official website reporter Jacqui Robertson, Debbie Douglas, wife of goalkeeper Robert, Kay Weston, wife of defender Rhys, and Gary Irvine's girlfriend Louise Stafford.

Mhairi, pictured on the left in the picture above, told STV how the idea came into being: "I post on the Dundee Mad unofficial fan forum and, as Dundee are in administration, we were looking for fundraising ideas.

"A few of the guys on there had suggested me getting involved with organising a calendar. I modelled Dundee's strips for them this season as I'm a huge fan and been going to the games home and away for 18 years.

"I got in touch with Debbie Douglas - wife of Robert Douglas - to see if she would be interested in helping out and if any of the other players wives or girlfriends would like to take part also.
"We got our photos taken by Allen Bell at Peachfur in Glasgow and although the girls were all very excited, we were also equally as nervous! The photos are fantastic though and we have had a lot of interest across the country already.
"I have managed to raise nearly £3,000 in sponsors alone so far, and we are printing 1000 copies at £8 each, so in all, we are hoping to raise around £10,000 for the club."