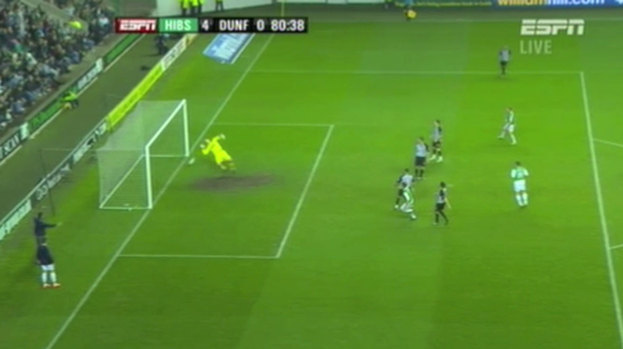 Hibernian were awarded a "phantom goal" in their foot of the table clash with Dunfermline as a shot that landed well in play was inexplicably deemed to have gone in by the officials.
With so much at stake in the match, it was a mercy for the Pars that the fourth goal of the game would not affect the final outcome.
But the ghost goal of Easter Road is sure to haunt the officials and resurrect the debate over goal-line technology in football.
The moment of controversy came 81 minutes into the match. With Dunfermline needing a victory to keep alive their slim hopes of staying up, the game had been all but ended after 15 minutes as Hibs cruised into a 3-0 lead.
The build up was the best football of the game. Paul Hanlon picked the ball up in defence and strode out, playing a diagonal pass to Isaiah Osbourne. The midfielder's cross found the onrushing Hanlon whose first time strike was hit at terrific pace.
The pictures from broadcaster ESPN clearly showed that the ball crashed off the underside of the bar and out. The linesman stood motionless and the players jogged into position for a corner. Then the referee and linesman came to a decision to award a goal, though television pictures did not show who first motioned back for a Dunfermline kick-off.
After the match Jim Jefferies, the Dunfermline manager who is facing a campaign in Scotland second tier next season, could afford to joke about the moment but said it was a baffling decision which he did not feel any official could make with any certainty.
Jefferies said: "I was standing there with just as good a view of it as the linesman and I couldn't tell. The ball was travelling so fast it was impossible to tell.
"So how they can make a decision based on that I'm not sure. They'd have to have amazing eyesight to get it right.
"Thankfully it hasn't affected the outcome."
Scottish FA chief Stewart Regan is in favour of using goal-line technology, but only when it becomes affordable for the game.
Speaking last month as systems run by HawkEye and GoalRef were endorsed by the International FA Board, Regan said he would interested in using it in Scotland.
Regan said: "There is a demand for goal-line technology and once the tests are completed we would be keen to try it."
Related articles