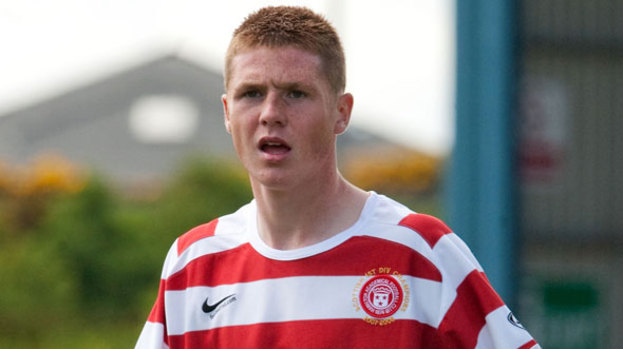 The chances of James McCarthy switching allegiances and playing for Scotland have been raised, after a number of people close to the Wigan midfielder mooted the possibility of an international U-turn.

McCarthy's club boss, Roberto Martinez, his Wigan team-mate, James McArthur, and his current international manager, Giovanni Trapattoni, have all made clear that the 20-year-old has a decision to make on which country he will represent for the remainder of his career.

The Glasgow-born player is eligible to play for Scotland, despite deciding to represent the Republic of Ireland as a teenager. Under a FIFA rule modified in June 2009, McCarthy would be allowed to change associations because he has not featured in an official match with the Republic.

Scotland boss Craig Levein hasn't made comment on whether or not an approach has been made to tempt McCarthy to play for the country of his birth. But STV understands the manager is keen to add the midfielder to his team, as he continues to look for talent to bolster a squad fighting for a spot at Euro 2012.

Wigan boss Martinez, who withdrew McCarthy from the Republic of Ireland's squad to face Wales in the Nations Cup on Tuesday, has called for calm from all parties as his player finds himself at the centre of a tug of war between the two countries.

"I do not know if it is a decision for him to make now or not," Martinez said on Thursday. "We need to give him plenty of time. We need to respect him.

"It is something very, very deep. But I do not think he has focused on that at all, although it is great to have two nations fighting over you."

Players are given permission by the governing body to change associations if they hold dual nationality, provided they held the nationality they want to switch to at the time they represented another association.

As McCarthy was born in Scotland and holds a UK passport, he is eligible to play for Craig Levein's team because the match in which he played for Republic of Ireland, a friendly against Brazil, was not a match in an official competition.

Ireland boss Trapattoni, who hopes to name the midfielder in his squad for the Euro 2012 qualifier with Macedonia in March, has conceded he could lose the services of a player who was reportedly courted by Chelsea in January.

But the Italian has made clear McCarthy is very much in Ireland's plans going forward, despite the player pulling out of the game against Wales this week.

"He is 20 years old, he can decide freely," Trapattoni told the Daily Mail. "He has the possibility. He knows our position, he knows we like him. He can decide. It's his heart that decides."

McArthur, who came through the youth ranks with McCarthy at Hamilton Academical and now plays alongside him at Wigan Athletic, says he would be delighted if his friend chose to represent Scotland. But McArthur, who scored Scotland's second goal in their 3-0 win over Northern Ireland on Wednesday night, says the decision is entirely down to his team-mate.

"I have spoken to him about it many times but I can't really comment on it, it is James' decision," McArthur said.

"I would have him playing for Scotland every day of the week but it is up to him. He is a top midfielder and the more who come in to the Scotland squad the better."

Article 18 of the FIFA Statutes states that "a player...is eligible to play for several representative teams due to nationality, he may, only once, request to change the Association for which he is eligible to play international matches to the Association of another country of which he holds nationality.

"[This is provided] he has not played a match (either in full or in part) in an official competition at "A" international level for his current Association, and at the time of his first full or partial appearance in an international match in an official competition for his current Association, he already had the nationality of the representative team for which he wishes to play."

Only games at a competitive level are deemed to be official "A" matches, meaning McCarthy's involvement against Brazil did not fully commit him to being a full Republic of Ireland international for the rest of his career.

Two players, Jermaine Jones and Edgar Castillo, have benefitted from this rule and have now been capped for the USA national team, despite earning caps in friendlies with Germany and Mexico respectively.

Previously, players were only permitted to switch nationalities once before the age of 21, a rule which previously prevented South African-born Falkirk midfielder Burton O'Brien from representing the country of his birth, having turned out for Scotland at Under-21 level.
MCCARTHY'S SCOTLAND DECISION