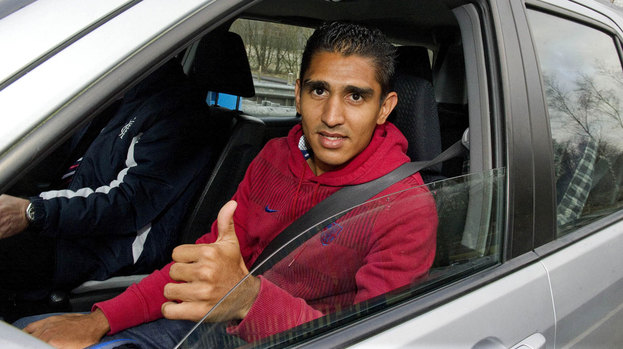 Edinburgh is finally getting a taste of cup final weather, as sunshine washes over the capital.
If that is not enough to send the most stoic of Hearts and Hibs fans over the edge of excitement, then not much will.
Maybe Cup Final Talk can continue lending a hand. Like Craig Beattie giving the latest on his injury problem. Worried Beats is not going to make it? Take the latest news from the horse's mouth.
Or Jorge Claros' incredible journey from being shot in the head during a botched robbery, to the slopes of Hampden Park on Saturday.
Pat Fenlon has a bit of a bee in his bonnet about people's perceptions of Hibs. Are they underdogs? Don't say that around the gaffer, who is nicely stoking a siege mentality in his players.
Then there is the man who lifted Hearts' first silverware in 50 years when he picked up the Scottish Cup in 1956. Hibees wanting a taste of how it feels to beat a cup hoodoo would be well advised to check out his memories.
TOP STORIES
Paulo Sergio demands focus from players
The Hearts boss dons a fetching flat cap to deliver his thoughts ahead of training at Hearts academy.
Pat Fenlon hits out at 'cheap shots' against Hibs
'Everyone is against us' has becoming a recurring theme from the Hibernian manager in recent weeks. Do you buy it? Should Hibs be favourites?
Craig Beattie is 'sure' he will be fit for the final
The one man every Hearts fan is praying will be fit on Saturday, talks to STV about his chances of making it.
Jorge Claros: I'm lucky to be alive after being shot in the head
An incredible tale from the Honduran 'Pitbull', who had to stick his finger in a bullet hole in his head as he was rushed to hospital. (Daily Record)
MUST READ
Freddie Glidden remembers the best day of his career
A fascinating account from a player of a different generation to today's modern footballers.
Fan says he'll get 'Craig Beattie' tattooed on his backside for giving him two cup tickets
There are ways of getting yourself a gold-dust cup final brief. This is one of the more unconventional ways. (The Sun)
Mapping where the Hearts and Hibs fans are traveling from for the final
The hunt is on at STV Edinburgh to plot the routes home for the many expat Hearts and Hibs fans. Check out some of the lengths supporters are going to on this interactive map.
MUST WATCH
A message to you Hibees. Four Hibs stars give their hopes to the fans back home as they train in Dublin ahead of the biggest Edinburgh derby of all time.
Remember and get involved with our cup final build up using the Twitter hashtag #saltnsaucefinal
More About Scottish Cup Final 2012
Related articles
People who read this story also read