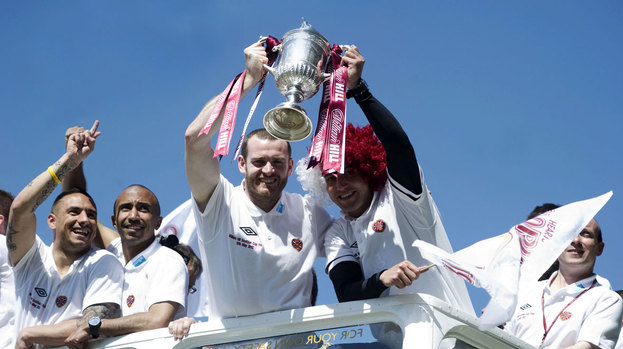 Craig Beattie has said that he is willing to consider extending his stay with Hearts.
The striker picked up a Scottish Cup winners medal at Hampden on Saturday following Hearts' 5-1 win over city rivals Hibs.
Injury restricted Beattie to an appearance from the bench in the final but he had played a crucial part in their cup run with goals in the quarter and semi-final.
Having only signed a short-term deal until the end of the season, Beattie is now a free agent but says he would consider remaining with Hearts.
"I don't know personally what I'm doing," he admitted.
"I'm certainly open to staying if it's a viable option.
"We'll sit down with my advisors and the club and see what we're going to do."
The former Celtic striker said that winning the Scottish Cup was a career highlight and said that he was proud of his own contribution to the club's success.
"It's right up there," he said. "Since I've come in I've made a massive impact in the cup games we've played - St Mirren in the quarter-finals, Celtic in the semi-final.
"Because I'd played such a big part I feel this is one of the most valuable and most memorable.
"We controlled the game, our big players turned up and we were tremendous from start to finish."
Beattie added that he would be keen to see Hearts offer a new contract to Paulo Sergio. The Portuguese manager said that he was surprised he had not yet been offered a contract extension and Beattie said it was important to keep Sergio at the club.
He said: "He's been terrific since I've come in. He's been absolutely fantastic, I can't speak highly enough of him tactically and as a man. He's been sensational.
"He's a good manager, a cup-winning manager for the club. There's not many that can say that.
"I don't see why they shouldn't be holding on to him."
More About Scottish Cup Final 2012
Related articles
People who read this story also read