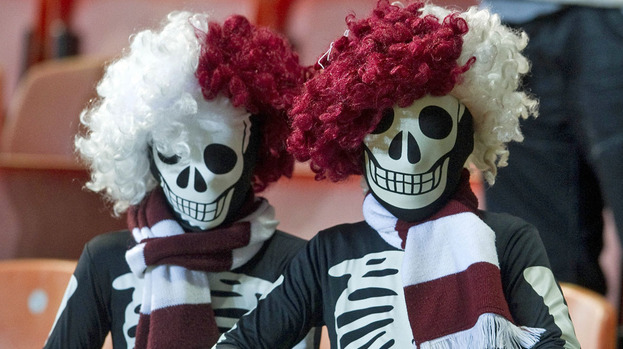 Football Talk is the bit at the end of a horror film when you think the monster is dead, only for it to lurch out of a bush or cupboard or lake when you least suspect it.
For Dundee United and Rangers fans, they thought they could escape their Hallowe'en cup quarter final defeats and just settle down and enjoy FT's usual mix of light-hearted nonsense and chin stroking analysis.
But today we're the rotting hand that grabs your ankle from below. The twitching corpse that springs back to life. The lazy dream-sequence device that you think could probably have been done a bit better.
We are Manuel Pascali's family photo album.
The Paskas #halloween #bigkids twitter.com/paska29/status…

— Manuel Pascali (@paska29) October 31, 2012
We are Dundee United's taste in penalty takers.
Clarification: When taking penalties against ten men you have to volunteer one player to not be involved. Skacel was our choice.

— Official DUFC (@dundeeunitedfc) October 31, 2012
We are Leigh Griffiths' idea of a secret plan.
Might get thumb 9 on the back of my jersey for the derby on the 3rd and just spoil every hearts fans party!

— leigh griffiths (@LeighG28) October 31, 2012
Enter the world of League Cup thrills and SPL spills if you dare…
Terry Butcher thrilled with his team's victory against Rangers
The Caley Thistle boss massacred his former club at Ibrox.
Rangers have a long way to go, says manager Ally McCoist
The Gers gaffer surveys the wreckage and is staying realistic after the defeat to the Highlanders.
Hearts progress on penalties past Dundee United
John McGlynn's men have found Tannadice to be a happy hunting ground.
Craig Levein makes final plea to hold on to Scotland job
His head's on the block, but will the axe fall?
Kenny Shiels: 'We need Celtic in the league…because of the feeling you get from beating them'
Like hitting one good golf shot, those rare wins against the Glasgow giants are enough to keep you coming back for more. (Daily Record)
Dunfermline players wages are delayed
Financial problems engulfing the Fife men have led to the players not being paid this month. (Scottish Sun)
Peter Houston: I took Rudi off spot kicks
Great shout Pete. (Scottish Sun)
Hibs plead for fan support to fund January swoops
Rod Petrie calls on the supporters to fund new faces through buying clothes, flags, tickets and bricks.
Blogs and round-ups? Scream if you want to go faster.
Resumen de La Liga: Llorente left out, Obafemi Martins back flips
Alba Espana's resumen, featuring some nifty video highlights.
The SPL is the enemy of learning
Nicol Hay tells his readers that there's no point trying to work out our top league – it is just too bonkers. (The Football Ramble)
The train from Goldeneye has been named as the new manager of Ipswich Town
As David Hartrick notes, it's funny because it's true. (Who Ate All The Pies)
Enter the freaky hall of videos.
Like Mikel Arteta? Prepare to like him even more.
Simultaneously weird and cool.
More About Football Talk
Related articles
People who read this story also read