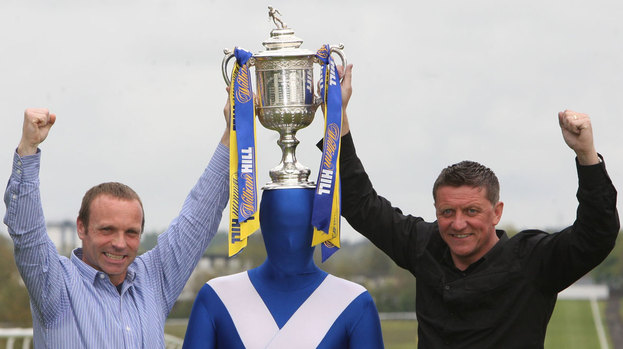 Hibs and Hearts fans feeling lucky ahead of Saturday's Scottish Cup final have the chance to lift the trophy before their heroes at Hamilton Park.
Members of the public can get their photograph taken with the cup at the course's Braveheart Night on Friday.
Former Edinburgh rivals Scott Crabbe and Mickey Weir were on hand to promote the event before the two capital clubs meet in Saturday's showpiece event.
Vivien Kyles, chief executive of Hamilton Park Racecourse, said: "Bringing the iconic Scottish Cup along to our first Super Six fixture of the season is a real feat for the racecourse and we hope it gets everyone excited for Saturday's game.
"It was great to welcome Scott and Mickey here to add to that buzz which will only increase in the run up to Saturday's final.
"Football fans travelling through from Edinburgh on Friday are invited along to enjoy the races and revel in an evening's entertainment, getting the chance to hold the cup a day before their footballing heroes. After that, may the best team win."
William Hill Braveheart Night at Hamilton Park Racecourse takes place this Friday, May 18, with gates opening at 3.45pm and the first race at 5.45pm.
Tickets will be available at racecourse's main turnstiles on the night from just £15 with more information available by calling Hamilton Park on 01698 283 806.
More About Scottish Cup Final 2012
People who read this story also read