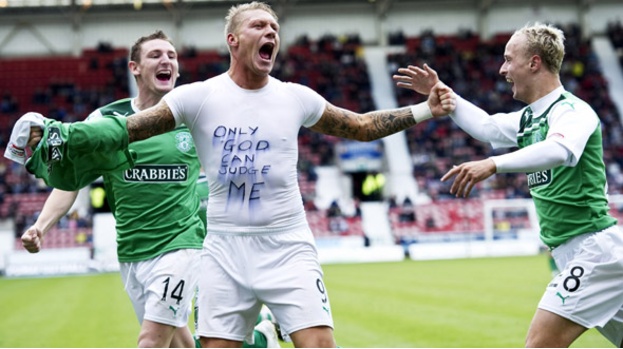 Edinburgh football fans – you shall go to the ball.
While Cup Final Talk's spiteful older brother Football Talk is wrapped up in some wee game happening in Munich tomorrow, every single Hearts and Hibs fan has eyes only for Hampden.
It doesn't matter if you are more concerned with checking the weather or checking the managers' pre-game thoughts, today is the last day before our fairy godmother swoops down and delivers us all by chariot to the south side of Glasgow.
The talking ends here. Good luck, and enjoy yourselves kids.
TOP STORIES
Cup final is no bigger than playing Auchinleck Talbot
Paulo Sergio keeps his approach thoroughly low-key, insisting Hearts are preparing no differently for the final and revealing his line-up is picked.
Leigh Griffiths wants a life-defining win
Hurting from missing the births of his two children, Leigh Griffiths wants to make amends with a cup win to be the pinnacle of his career.
Pat Fenlon sees his Hibs stars grow in confidence
The Hibernian manager has seen his players grow and add confidence to their game since beating the drop. He thinks they are coming good at exactly the right time.
Ryan McGowan will be cheered on by 'Aussie Jambos'
The ace from down under will have an army of supporters back home in Adelaide watching the big game.
Open top bus will be painted at full time
As soon as the final whistle goes, workers at Lothian Buses will begin transforming their open top bus to the design of the winning team
MUST READ
Kevin Kyle spills the beans on his ex-Hearts team-mates
The big forward gives a humour insight into the players who will run out in maroon on Saturday. (Daily Record)
Hibs fans promise to follow Garry O'Connor and streak down Princes Street
Good people of Edinburgh, beware! A result for the Hibees will see their fans running en-masse down the street wearing only their birthday suits, in homage to Garry O'Connor's bonker bet. (The Sun)
The night before the morning after
STV Edinburgh finishes the week the way it started, with the thoughts and fears of the fans put into a blog by Shaun Milne.
MUST WATCH
In a classic 'head-to-head', Forth One's Grant Stott and Bob Malcolm talk through their hopes, fears and memories of the cup.
Don't forget to join in the cup final banter on Twitter using the hashtag #saltnsaucefinal.
More About Scottish Cup Final 2012
Related articles
People who read this story also read