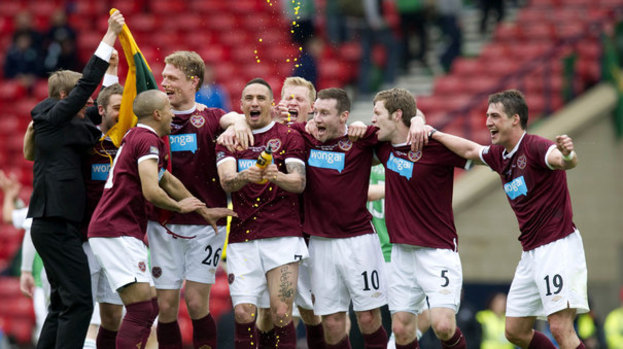 The first all-Edinburgh cup final in 116 years eh? That was some caper. And they say Scottish football would be nothing without the Old Firm…
For many Hearts fans, the party is still going on. An estimated 100,000 turned out to hail their heroes on a balmy Sunday afternoon in the capital.
On the other side of the city, things went fantastically well until the game kicked off. There were pre-match parties across Glasgow, a spectacular card display and 20,000 flags turned half of Hampden into a sea of green.
Now, as Hibees either cower at home on a day off, or return to the office to face the music from their smug Jambo colleagues, attentions at both clubs turn to what happens next. Major surgery is needed at Easter Road, while the cream of the crop at Tynecastle are set to be removed whether the fans like it or not.
In the final Cup Final Talk, here is the round-up of the very best content that has been in the making since 1896.
TOP STORIES
Paulo Sergio unhappy at uncertainty over his future
The cup-winning Hearts manager will return to Portugal without a contract to stay at Tynecastle.
Craig Beattie is open to a new deal at Hearts
His future is up in the air, but striker Craig Beattie would be up for prolonging his stay at Hearts.
Rudi Skacel says winning the cup was 'the best way to say goodbye' to Hearts
Rumours have it that Rudi Skacel will leave Hearts, possibly bound for America. His Hampden double was a leaving present to the fans.
Ian Black emotional after fulfilling his boyhood dream
The life-long Jambo is looking south for next season, but saw his dreams come true against Hibernian.
Leigh Griffiths rages at 'stupid' penalty decision
Speaking after the 5-1 humiliation, striker Griffiths seethes at the performance of the referee.
MUST READ
Hampden may be the perfect send off for Paulo Sergio
Stuart Bathgate thinks Paulo Sergio could be well advised to call it a day as the Hearts side prepares to be broken up. (The Scotsman)
Hibs have to rip it up and start again
There is no doubt that the Hibs team will undergo major changes this summer. Pat Fenlon raged at his players' attitude. (The Herald)
Hearts dominated the Scottish Cup final before the match even kicked off
Aberdeen manager Craig Brown analyses the tactics of Paulo Sergio and Pat Fenlon after the Hampden showpiece. (Daily Record)
MUST SEE
The Scottish Cup Final 2012 in pictures
Heart of Midlothian's victory parade through Edinburgh
MUST WATCH
100,000 see Hearts parade the Scottish Cup through Edinburgh
Videos and interviews from STV News.
The pre-match atmosphere in Hampden was red hot. Here's a good view of the streamers from Hearts and cards and thousands of flags from Hibs.
The Hearts players on the open top bus get involved with the fans' chants. 'Stand up if you hate Hibees….'
More About Scottish Cup Final 2012
Related articles
People who read this story also read