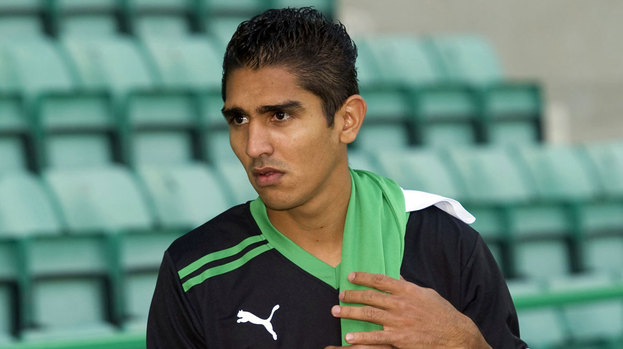 Jorge Claros says he is still upset over being taken off before half-time in Hibernian's Scottish Cup final defeat to Hearts.
The Honduran midfielder was removed by manager Pat Fenlon in the 42nd minute to make way for Ivan Sproule, with his side already 2-0 down to their Edinburgh rivals.
Claros, who is training with parent club Motagua before returning to Scotland to continue his loan spell, also says he is yet to hear whether he is in the manager's plans for next season.
"I left the club with a bad taste in my mouth," Claros told Diez.hn. "It was the game I wanted to play in more than any but I only played 41 minutes because of tactical reasons.
"I do not know when I have to return to Scotland because nobody has called me. But I don't fear receiving that call.
"I have a contract until January 1 next year. I know I have to go. The people at Hibernian are serious about me returning and want me to respect my contract."
The 26-year-old is hoping to get off to a strong start with Hibs in the new season, as he looks to push his way back into contention for the Honduran national side.
"I know I have to work harder to be in the national team. I know only the best can be there.
"I will work to ensure I am taking into account. But if I am not selected, I will respect that decision and hope they call on me next time."
People who read this story also read