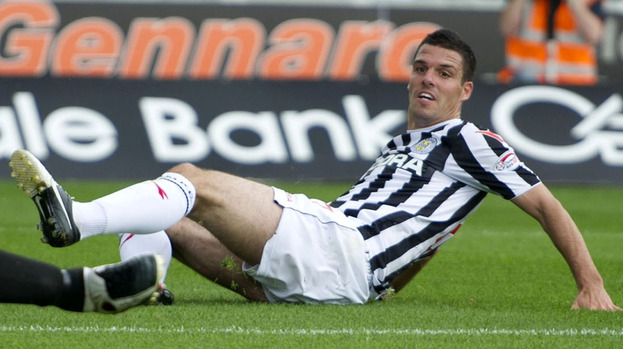 Here we see the lesser spotted SPL Wrap emerging from its summer hibernation; cautiously sniffing the air after months of surviving in a nest of its own making.
The habitat itself is quite the work of art, being made up from the stray lip hairs of Tommy Turner, the belly-button lint of John Hartson and the pickings from a Claudio Cannigia headband.
These are expertly woven together to create a cocoon that will see the Wrap through the months of June and July.
We at the SPL Wrap stepped blinking into the light for the first time in two months on Saturday. Nothing much will have changed, eh?
Aiming to take our misinformed ignorance to at least the same level as a Euro 2012 pundit, we did a bit of homework ahead of the big kick off. When we say homework, we looked up SPL on Wikipedia.
And after successfully learning all about Scanning Probe Lithography, the Socialist Party of Latvia and Samsung Printer Language, we finally found what we'd been looking for. But surely, something was missing? Of course: poor old Dunfermline!
Ross County in the SPL, eh? Dundee back in the top-flight? Adolf Hitler was thrown out of his flat for listening to house music too loudly? John Yorkston was a stunt double for David Prowse? Marko Rajamaki runs an annual owl stuffing competition in Finland? It's amazing what you learn on t'interwebs.
As we all know, Celtic have this league sewn up already, but it was awfully good of them to at least go through the formalities when they kicked off against Aberdeen. Whether it was early season rustiness or having one eye on the match in Iceland (Copyright: Paddy McCourt) against HJK Helsinki, there was a little more huff and puff to the performance than might have been expected.
Indeed, it took the worst howler since the end of the Thriller video from Jamie Langfield to present Celtic with the only goal of the game, Kris Commons being the beneficiary. As we all know, league titles are marathons not sprints, and at the risk of mixing metaphors like Grandmaster Flash did records, this is only the first hurdle.
Equally capable on opening day were Hearts, who saw off the competition of St Johnstone to give John McGlynn a debut victory. John Sutton marked his return from a spell at Erinsborough FC with a penalty, which gave Hearts a well deserved lead.
Swinging arms are good in dance competitions, cricket matches and artillery deliveries, but less so on the football pitch. Just ask Gregory Tade, who was sent off for a stray limb to the back of Andy Webster's head.
It was only after the red card that St Johnstone created chances to get back into the game, with Nigel (Floyd) Hasselbaink the main outlet of trouble. To kill off any chance of a comeback, David Templeton scored arguably the goal of the weekend with ten minutes to go.
There was no less drama in Paisley, as St Mirren salvaged a point from their match with Inverness. Lewis Guy, surely a candidate for a reworked John Lennon song in his honour, gave St Mirren the lead, only for goals from Billy McKay and Crimewatch's own Nick Ross to turn the match around.
With seconds remaining, Darren McGregor headed an equaliser, before Guy was sent off for a bit of fistycuffs with Ross Draper.
The SPL's (two!) new boys got off to solid enough starts, drawing with Kilmarnock and Motherwell in their opening fixtures. While Ross County were stoic and shut Motherwell down well, Dundee will perhaps rue missed opportunities as both sides drew 0-0.
The Kenny Shiels roulette wheel of pre-match emotion had suggested that simply staying in the division was the priority this season. Well Kenny, one down 37 to go.
Dundee United and Hibernian have had contrasting fortunes in recent years. While United appear as stable a club as the SPL currently hosts, capable of replacing and patching-up the side after losing individuals. Hibs are a Forth Bridge club; as soon as the paint-job is finished then it needs to begin all over again.
Still, at least Pat Fenlon had managed to keep hold of two of last season's brightest symbols of hope in James McPake and Leigh Griffiths. There had to be some form of improvement, right?
Dundee United took just three minutes to score, with Johnny Russell picking up where he left off last season. Jon Daly followed suit, before Michael Gardyne managed one of his own on his league debut.
It may just be based on one game, but on this showing Hibernian's season looks about as bleak as a Stewart Regan forecast four weeks ago, while Dundee United's looks as about as positive as a Stewart Regan forecast one week ago.
Now the Wrap has emerged from its sleep, it must find sustenance in the form of pies, special drink and the leftover sandwiches from the last three weeks of corporate meetings at Hampden. Truly, there will be rich pickings.
Related articles
People who read this story also read