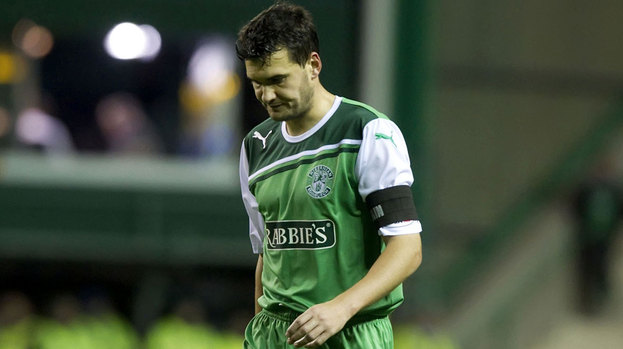 Ian Murray knows that careers are at risk if Hibernian don't preserve their top-flight status.
Hibs are currently in 11th place in the SPL, just three points ahead of bottom-placed Dunfermline ahead of this weekend's matches.
Dunfermline could pull level with the Easter Road club on Saturday, ahead of Pat Fenlon's side travelling to Inverness on Sunday.
Former Norwich man Murray believes that his team-mates need to realise the gravity of the situation they are in and realise they are playing for their jobs.
He said: "It should mean the world to everyone.
"If you're going to be part of a relegated team it's not good, first and foremost for yourself, and then you've got to think long term.
"There will be huge changes if Hibs don't manage to stay in the league. That's simple. We know it would be a big thing Hibs getting relegated. I can remember last time Hibs went down, we were fortunate to bounce straight back up.
"I think this time it would be a whole lot harder."
Murray also stated that while he believes his team-mates are confident, they must not believe they have a divine right to stay in the top division.
He continued: "We're very confident we can survive but we also have to be cautious.
"We've got no God-given right to just turn up and expect to be in the Premier League again. I've got no doubt Dunfermline will pick up points over the next few weeks.
"We have to be wary. They've come back from further behind than they are at the moment so we need to try to put that to bed as soon as possible."
With Jim Jefferies being appointed Dunfermline manager it has added a further sub-plot to the relegation battle. Jefferies has had two spells in charge of Hibernian's Edinburgh rivals, Hearts, and has worked closely with Hibs assistant Billy Brown throughout his career.
Murray believes that the appointment has made things a little more interesting at the bottom of the table.
He said: "They're a big club and you could argue that they should be in the Premier League - they're that big a club. As long as it's not at the expense of us.
"It adds a little bit more spice to the whole thing. It would be a remarkable story (if Jefferies were to keep Dunfermline up). We just hope it's a story that doesn't happen."