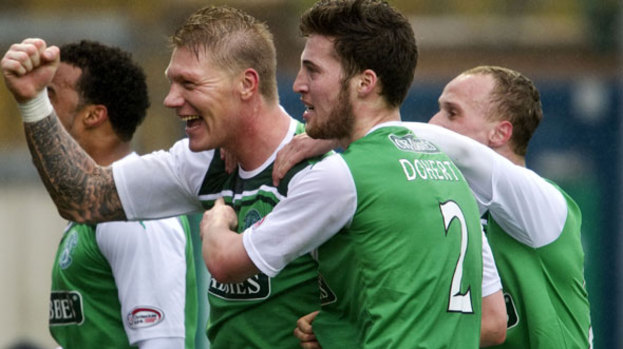 And that, to all intents and purposes, would appear to be that.
What lingering issues there were in the SPL appear to have been resolved six games before the end of the term. Surely between now and the end of May all that is required from the class of 11/12 will be to sit quietly, watch videos and take in their own games? And no Dunfermline, it's not ok to pull Hibernian's hair.
The most pressing matter appeared to be the relegation battle between the two sides. JJ's arrival at East End Park had been twisted to suggest that the only thing that gets his blood pumping is the fact he could relegate his old Easter Road rivals. Sit-ups are easier, but each to their own.
Going in to this weekend's fixtures that looked a very distinct possibility. While Dunfermline faced a likely mercy killing at Tannadice, Hibernian were going to be asked to get points at Inverness. The Romans had a better record in the Highlands than Hibs.
However, win they did, claiming a 3-2 victory thanks to goals from Paul Hanlon – so nearly an anagram of his own manager – Gary O'Connor and Leigh Griffiths. For all the pre-match talk of their wretched record at the Caledonian Stadium, Hibs have now won there twice this season, double what they've managed at home all campaign and twice more than they've beaten most teams. That particular monkey has been shaken from their back. Now for the barrel of other simians…
Dunfermline fulfilled their side of the bargain by losing comprehensively to (would it be fair to say?) Champions League chasing Dundee United. Peter Houston's men are on their now traditional late charge up the division and seem as likely as anyone to cause a bit of stir in the final standings.
Jon Daly was chief torturer and could quite conceivably finish the season as top scorer in the SPL. It would be the first time since the days of Tommy Coyne at Motherwell that a player from outside of Glasgow has achieved the feat. If Giovanni O' Trappatoni is as keen a reader of the SPL wrap as we all know he is, then may I suggest again that the Dundee United striker would offer something Ireland don't currently have in their forward line.
Hibernian have a six point cushion over Dunfermline and just six games to play. The Pars have taken six points in the last 11 games. That said, after the bizarre season we've had, who knows what to expect next: half time dragons? Mid-season kayaking? Bonus points for winning rap battles? In this writer's opinion, all of the above should be welcomed.
It's been a week of little or no concrete news at Ibrox, with focus seemingly on who will not be making offers for the club rather than who will be. There was, however, an overwhelmingly positive reaction to the legends match with AC Milan, with much needed funding raised. The only downside will have been the costs of extra material needed to keep some of those legends' shirts modest.
It does now seem necessary to prefix any story about Rangers' matches with the phrase "On the pitch…" I'd hate to rock the boat.
On the pitch things are looking slightly more positive for Ally McCoist's side. After last weekend's victory in the Glasgow derby they followed up with a 2-1 win against Stuart McCall's Motherwell; rivals for their second spot. Henrik Ojamaa scored within six minutes, but Steven Whittaker equalised three minutes later.
***Advance warning*** the following paragraphs contain imagery that you might not want in your head on a Monday afternoon. Don't say you were not warned.
One of the great positives for Rangers in recent weeks has been the form of Lee McCulloch. The veteran was likely to have been one of the players asked to take the biggest salary cut by administrators and taken on more positions than the Kama Sutra. The former Motherwell and Wigan man, in forward mode, scored the winner for Rangers.
Don't say we didn't warn you.
Last time St Mirren won there was frost on the ground. Last time St Mirren won Rangers were top of the league. Last time St Mirren won you hadn't opened your Christmas presents. Last time St Mirren won your New Year's resolution was still theoretically possible. Last time St Mirren won werewolves roamed the earth. Last time St Mirren won it was depicted in paintings daubed on cave walls. Last time St Mirren won the half-time entertainment was from the Triceratops Circus. Last time St Mirren won it was used as the opening montage of a Stanley Kubrick film.
Cue epic music and say the sentence in the voice of the guy that does trailers for summer blockbusters. This weekend… St Mirren won 4-2 against Kilmarnock. Now clear your throat. Goals from Steven Thompson, Steven Thomson and Nigel Hasselbaink helped see off Killie and give Danny Lennon his first victory since Christmas Eve.
At Tynecastle Hearts finally decided they definitely wanted to take part in the top six after a couple of weeks of dithering. Goals from Ryan McGowan and a Rudi Skacel double gave them a 3-0 victory over Aberdeen, who may or may not wake up in time for the Scottish Cup semi final.
They really should just build a helipad at Kilmarnock, given how often it's been the site of title celebrations from visiting fans in recent years. Celtic's 2-0 win over St Johnstone meant that Rugby Park will be the venue where Neil Lennon's side can finally confirm their status as SPL champions. Georgios Samaras and a Chris Miller own goal provided the goals for Celtic and there was even a refereeing performance that Neil Lennon would have approved of.
In Brief
• Celtic (78) are about a billion points ahead (actually 18) and will win the league next week if they take anything from Rugby Park.
• Rangers (60) now lead Motherwell (54) by six points. Arguably more of a worry for Motherwell are Dundee United (49) and St Johnstone (49), who are now just 5 points behind them.
• St Johnstone occupy sixth positions with 45 points.
• Kilmarnock are the envy of all, well, everyone eighth place and lower, by being top of the bottom. (37 points) St Mirren (35), Aberdeen (33) and Inverness (31) are all in and around.
• Hibs (26) have a bit of light between them and Dunfermline (20). The speed of light is 300 million metres per second. The gap of light is six points. Everyone knows that.