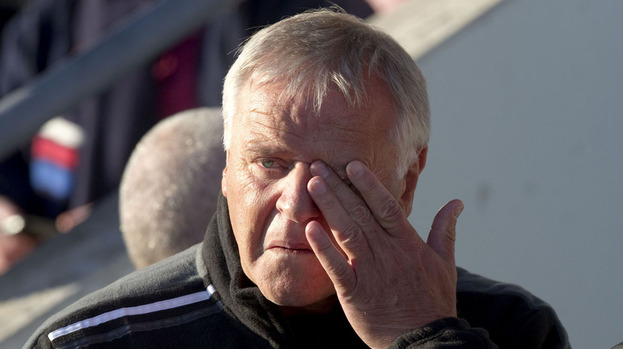 Dunfermline manager Jim Jefferies refused to concede the relegation fight after his team slipped five points behind Hibernian.
The SPL's bottom club stretched their unbeaten run to three games with a 0-0 draw at Inverness but Hibs' victory at Aberdeen saw the Pars slip further behind with an eight-goal advantage in the Edinburgh club's favour too.
The relegation issue could be settled with anything other than a win for Dunfermline, when the Fifers travel to Easter Road on Monday. Jefferies said his side will travel to the capital in defiant mood.
He said "It was important we didn't lose tonight because with Hibs winning we had to keep it alive.
"We know what we have to do, we have to go to Easter Road and get a victory and if we do we take it to the last game, they have got to come here [to Inverness] and we have a home game [against Kilmarnock]. Both tough matches."
Jefferies said his side's trip to the Highlands was a tough fixture and he was happy to have taken a second clean sheet in a row. The lack of goalscoring chances from his team frustrated the manager though.
Jefferies said: "Inverness probably had more goalmouth incidents. We had a couple of half chances, one in the first half and Kyle Hutton hit it down the goalkeeper's throat and the second half Martin Hardie hit it sweet and hit it down the goalkeeper's throat again.
"If you're looking for pluses, going three games undefeated, two of them away, the first time we have had clean sheets back to back. It just shows we are making a great effort.
"Credit to Hibs for going up to Aberdeen and getting a result, but it's not over until it's mathematically over. We know what we have to do, we just have to go for it."
Related articles