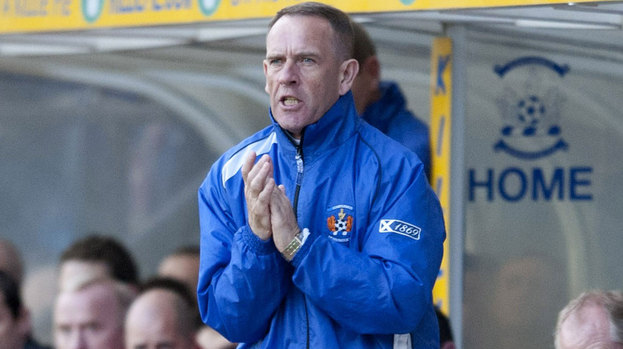 Kilmarnock manager Kenny Shiels has been handed a two-match suspension by the Scottish Football Association.
However one of those games is suspended until the end of the 2012/13 season.
The Rugby Park boss is ruled to have breached Rule 68 of the governing body's disciplinary rules.
But the tribunal determined the Northern Irishman was not guilty of breaching Rule 69.
The punishment relates to comments Shiels made about an official in the aftermath of the Celtic v St Johnstone match on April 1.
Neil Lennon's men visited Ayrshire the next week and in the pre-game build up Shiels said: "They [Celtic] are coming to win a title, – that's their foremost thought – but human nature takes over and they will want to get revenge, there is no question of that.
"And I hope we have a strong referee because that's vitally important. They didn't have one last Sunday and it favoured Celtic considerably. So hopefully we have a strong referee."
Rule 68 states: "No recognised football body, club, official, Team Official or other member of Team Staff, player or other person under the jurisdiction of the Scottish FA, shall in an interview, a 'blog' on the internet, on a social networking or micro-blogging site, or in any other manner calculated or likely to lead to publicity (i) criticise the performance(s) of any or all match official(s) in such a way as to indicate bias or incompetence on the part of such match official; or (ii) make remarks about such match official(s) which impinge on his character."
Meanwhile Rule 69 stipulates: "No club, official, Team Official, other member of Team Staff or player shall make public comments relating to a referee who has been appointed to a match involving the club of the official, Team Official, other member of Team Staff or player at any time prior to the relevant match."
People who read this story also read