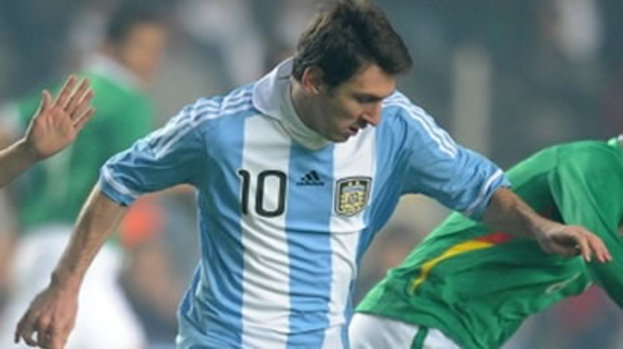 All three of Scotland's voters in the 2011 FIFA Ballon d'Or chose winner Lionel Messi as their top player for the previous year.
Scotland captain Darren Fletcher, national manager Craig Levein and journalist John Greechan all contributed five points to the Barcelona star's tally, which saw him claim the prize for the third successive year.
In victory, Messi is the first player to win a world player of the year award three years in a row and remains the only winner of the recently created FIFA Ballon d'Or, which was inaugurated in 2010 through a merger of the Ballon d'Or and the FIFA World Player of the Year prize.
The Argentine polled 47.88% of the vote. Cristiano Ronaldo finished second with 21.6%, followed by Xavi with 9.23% - the third successive year the midfielder has finished in third spot.
Manchester United midfielder Fletcher chose his former club team-mate Cristiano Ronaldo as his second pick, with Barcelona and Spain's Xavi his third choice.
Levein plumped for Messi's club team-mate Andres Iniesta in second place, followed by his Real Madrid rival Ronaldo in third.
Greechan, who writes for the Daily Mail, made it a Barcelona 1-2-3 by choosing Messi, Xavi and Eric Abidal as his three picks.
Others with connections to the Scottish game also cast their vote. Current Rangers defender Carlos Bocanegra had his say in his role as captain of the US national team.
The 32-year-old followed the same pattern as voters in his current country of residence, choosing Messi as his top player. Xavi and Cristiano Ronaldo were given his second and third vote respectively.
Former Ibrox boss Dick Advocaat, in his role as Russia manager, also chose Messi as his first pick. The Dutchman named countryman Wesley Sneijder as his second pick, followed by Xavi.
Ex Kilmarnock boss Mixu Paatelainen, now in charge of the Finnish national team, chose Messi, Cristiano Ronaldo and Xavi.
One-time Scotland manager Berti Vogts, who manages Azerbaijan, chose Messi as his first pick. The German then chose countryman Bastian Schweinsteiger and then Wayne Rooney.
Two former Celtic players - Bulgaria's Stiliyan Petrov and Republic of Ireland's Robbie Keane - both elected for different choices as their top men.
Petrov elected for Cristiano Ronaldo as his top player of the year, followed by Messi and Xavi. Keane meanwhile picked out Iniesta as his favourite, followed by Messi and Sneijder.
There was also a vote for former Livingston boss Roberto Landi, now in charge of Liberia, who chose Messi, Iniesta and Manchester City's Sergio Aguero.
The late Gary Speed, formerly Wales' head coach, registered his votes before his death in November, picking Messi, Xavi and Ronaldo.
For a full breakdown of the vote, FIFA's Ballon d'Or voting document outlines who chose who.