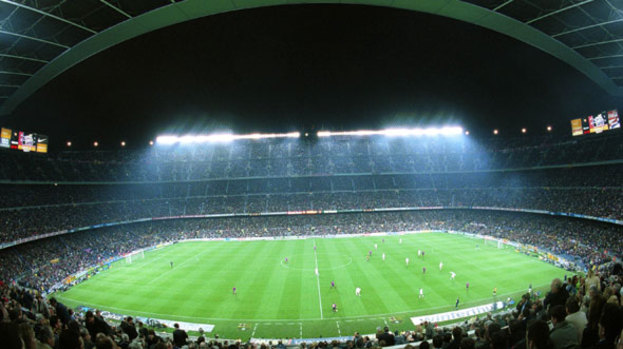 It could be the easiest press conference question known to the crazy world of football. "Would you like to play for Barcelona?"
"Eh, naw, I'm happy and settled in the SPL" is rarely the answer, and while Celtic's own Essex boy Gary Hooper forewent the Scottishism, he too is added to the list of those who wouldn't mind turning out for the best club football side in living memory.
Junior footballer Andy Leishman is wishing upon a star with the slightly more modest ambition of moving to Edinburgh. The Auchinleck Talbot goalkeeper has trained with Hearts with a view to turning professional this summer.
With Euro 2012 just around the corner, the Football Talk team is going through a rigorous Eternal Sunshine… style process of having every major tournament cliché expunged from our minds.
Whether decades of being brought up with former players for pundits will pay off, is anyone's guess. But we can reveal that concern over in-fighting in the Dutch camp is only outweighed by fears that Portugal are a one-man team, the Scandinavians will be organised, Poland carry the hopes of a nation, Italy will be slow starters and nobody wants to be on shift for the Ukraine games.
TOP STORIES
Shaun Maloney: I was envious of pals getting Scotland calls
The skilful former Celt has a barnstormer of a finish to the English Premier League season and is delighted to back in the national team.
Mo Edu sees USA trip as welcome escape from Rangers worries
It is No Money, Mo problems for American midfielder Edu as he prepares to face the Scots in Florida.
Terry Butcher issues deadline to Inverness contract rebels
The Caley stars will not be allowed to book their sunshine breaks until Terry Butcher has an answer on their future. Steve Lomas and other managers are circling like vultures.
Gary Hooper sets his sights on a move to Barcelona
Celtic's top scorer leaves millions speechless as he admits he wouldn't mind a wee contract at the Camp Nou. (The Sun)
Auchinleck Talbot goalkeeper trains with Hearts
The man who almost shocked eventual cup winners Hearts at the very first hurdle is now in trial at Tynecastle. Could a fairytale move to the SPL come off? (Daily Record)
MUST READ
On the 45th anniversary of arguably the greatest triumph in Scottish football history, Paul Bisland pays tribute to the hallowed Lisbon Lions. (In Bed With Maradona)
As sub-editors reach for their old Orange Juice records and Edwyn Collins wonders what his 1982 track had to do with a struggling Hibernian side, Tom Hall takes his turn to pick through the wreckage of Pat Fenlon's team. (Scottish Football Blog)
What the average TV pundit knows about the Euro 2012 teams
One in the eye for pundits who freely admit 'I don't know much about this team' whilst on a jolly abroad which should entail, well, knowing all about teams. A terrific compendium of phrases to be avoided in Poland and Ukraine this summer.(Betting Expert)
MUST WATCH
I think the headline pretty much says it all. (101 Great Goals)
Netherlands squad appear in ridiculous Birdie Song commercial ahead of Euro 2012
Beware, young Nani. No footballer can ever replace John Barnes in the winger/rapper stakes. Just ask Ryan Babel. (101 Great Goals)
Colombian striker Fredy Montero is earning a reputation in Major League Soccer for doing the spectacular. This is one of the Seattle Sounders designated player's more conservative efforts, but involved two incredible touches before curling in a last minute equaliser at the Vancouver Whitecaps.
More About Football Talk
Related articles
People who read this story also read