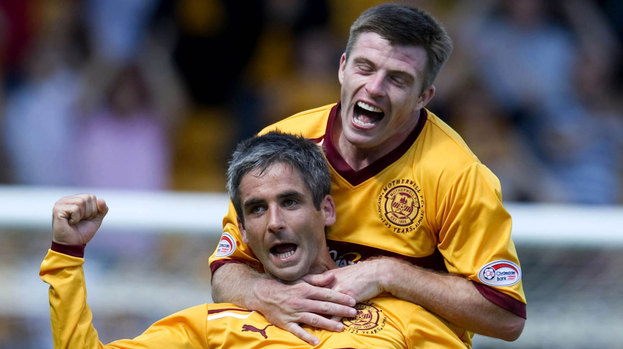 Keith Lasley has urged Steve Jennings to stay at Motherwell and enjoy the club's Champions League qualifiers.
The Englishman is out of contract this summer and has attracted interest from Championship side Sheffield Wednesday.
Jennings is currently weighing up his options having been offered a two-year contract to remain in Scotland.
He played a key part in the Steelmen's successful SPL season which saw them finish third and gain a crack at the qualifying stages for Europe's top club competition.
And fresh from signing a new contract of his own, Lasley hopes his team-mate will stick around in Lanarkshire for a while longer.
He told The Mail on Sunday: "Steve has been one of our most consistent players since he came to the club three years ago.
"We've managed to build up a bit of a partnership in there and not only is he good to play alongside, he's also important off the park.
"Steve is a very big voice in the dressing room.
"He only signed a one-year deal last year and we had these same conversations. I think everybody at the club wants him to stay on but, again, it's a sign of the team being successful that I'm sure there are other clubs interested in him."
Related articles
People who read this story also read