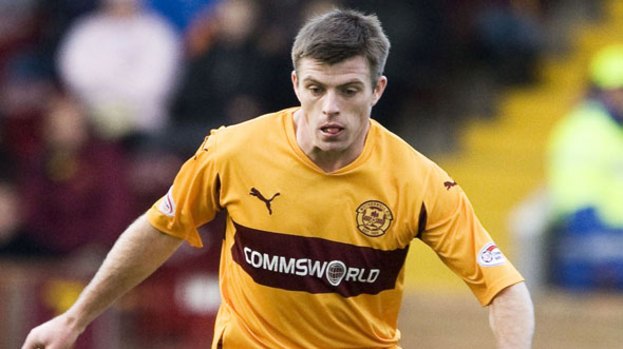 Ahead of a summer assault on the Champions League qualifiers, Stuart McCall will be most keenly feeling the loss of midfielder Steve Jennings from his Motherwell squad.
The 27-year-old Liverpool-born player has been the heartbeat of the Steelmen midfield for three years, since arriving on a free transfer from Tranmere Rovers.
The former Everton youth forged a strong understanding with Keith Lasley in a Well engine room that carried them to third place last season, and a Scottish Cup final appearance the previous year.
Jennings could not have been accused of being a prolific goal scorer in Claret and Amber – he averaged a goal every 38 games – and he rarely played the telling final pass himself either. So what made Jennings such a big player for Motherwell?
His relationship with Lasley cannot be underestimated. The pair ebbed and flowed to allow each to bear as much influence as possible.
Games would usually start with Lasley more advanced, chasing loose balls and harrying the opposition players in possession. Jennings would sit deeper, knit short passes together and allow the full backs to build attacks.
Later in first halves, Lasley would withdraw to a more defensive area and look to break up play rather than chase bodies. Jennings would step forward and receive the ball as often as his team mates could find him.
Jennings was particularly effective at spreading the play from wing to wing. A typical move from the number eight would be to receive the ball from Hammell at left back, open his body, and spread it across to Humphrey at right wing. Executed with enough pace, the move could unlock numerous SPL defences.
His greatest strength was bringing calmness to the midfield and he plays with his head up, looking for a pass. Whoever Stuart McCall chooses as a replacement for the Scouser, they will have to quickly learn how to take their time in a league where the middle of the pitch is often a fast and furious hunting ground.
There are two clear favourites to take Jennings' position in the campaign ahead. Nicky Law played his maiden season at Fir Park either on the left of a four man midfield, or in the 'number ten' position ahead of Jennings and Lasley.
Blessed with a natural ability to adapt to most areas of play in the midfield, Law could become the deeper play-maker, allowing McCall to play Jamie Murphy on the wing, or pack his team with the pace of both Humphrey and Omar Daley.
Another popular choice would be Tom Hateley, who has made right back his position in the past 12 months. A natural central midfielder, Hateley has honed the defensive side of his game as well as possessing a deadly right footed delivery.
He could be the more natural selection to pivot with Lasley in either of the 4-4-2 or 4-2-3-1 systems favoured by McCall.
A third option is Stewart Carswell. A talented 18-year-old, Carswell impressed fans with a tidy display on his debut against Hearts at Tynecastle in April, playing the full 90 minutes of a 0-0 draw. Combative, but with a good touch and a growing sense of vision, the long-term bet for McCall could yet force his way into contention.
Related articles
People who read this story also read