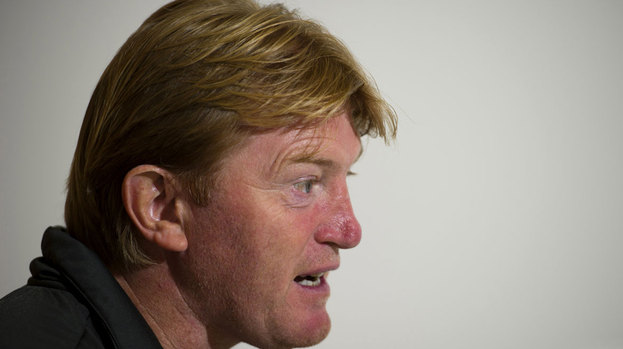 Stuart McCall has said he won't take a gung-ho approach when he sends his Motherwell side out against Panathinaikos in the second leg of their Champions League qualifier.
Motherwell are looking to overturn a 2-0 first leg home defeat and though they need goals, McCall was wary of throwing players forward, insisting that a tight defence is first priority.
"We've got to defend really well," he said.
"I think there's a few things against us with the quality of the opposition, the heat that everyone keeps telling us is searing at this moment in time and obviously it's a big wide open park.
"So we're going to have to defend really well and getting the first goal is going to be key."
The manager refused to rule out an upset though, saying that with the right breaks the SPL side could put Panathinaikos under pressure.
"If we can [score first] then who knows? But it's a big ask," he explained.
"We've got to learn from our experience because obviously if we do go out tomorrow night then we fall into the Europa League.
"So we go out and we be competitive, put on a good show and learn from the experience because we've got a lot of young lads and it's a learning curve for us all.
"I think we've got to be realistic and stay in the game as long as we possibly can. If we can do that for a long period then hopefully we can push on and get that goal which might give them a little bit of nerves.
"But we know it's going to be a real uphill task we have to be at our very best, defend well and get that little bit of lady luck."
Though admitting that qualification was unlikely, McCall wouldn't cal lthe match a distraction ahead of league matches.
"If you look at the SPL then it's not ideal getting back in the early hours of Thursday to prepare for the game on Saturday against St Johnstone but we worked hard last season to get here," he said.
"The first leg wasn't the result we wanted, although the performance was more than acceptable, but we deserved at least a draw to be coming out with. It wasn't to be but we'll look forward to this and relish it really."
Almost a full squad travelled to Greece with only one player failing to make the flight.
"Chris Humphrey strained his hamstring on Saturday so he's not travelling," McCall said. "We've got one or two that we'll decide on tonight after training that have little knocks but other than that we're ok."
Related articles
People who read this story also read