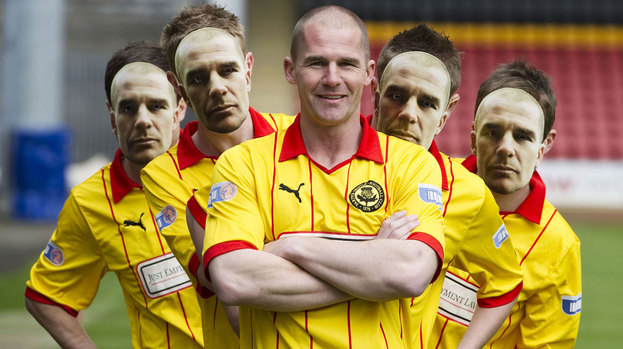 The world of football often flits between the sublime and the ridiculous.
On Saturday, Partick Thistle will mark captain Alan Archibald's 400th appearance for the club with a day in his honour.
Named 'Archie Day', the crowd at Firhill will pay tribute to the 34-year-old's commitment to the club before their final home game of the season against Falkirk.
Supporters will be issued with special 'Archie masks' [pictured above] as Archibald leads his side out.
He will also receive a special presentation from Bobby Dinnie MBE – who discovered and signed him for the club.
So to mark the occasion we look back at players who have been honoured in a similar way.
Danny McGrain
When manager of Arbroath, the former Celtic and Scotland player was celebrated by supporters wearing tribute t-shirts and stick-on beards.
Diego Maradona
The Argentina legend is so popular in his homeland that he's even had a church named after him. Famed on these isles for his 'Hand of God' goal, a group of fanatics took it a stage further and hold Easter on the day of that match between Argentina and England.
Several players have been idolised by a club's supporters despite never having played for that team.
Albert Kidd is a hero at Hibernian due to his double denying Hearts the title on the final day of the 1985-86 season. According to The Knowledge, Australian Hibs Supporters Club have invited Mr Kidd to be a guest of honour.
Jam Tarts legend Gary Mackay is said to be a highly-regarded in Ireland after his goal for Scotland against Bulgaria helped the Republic reach Euro 1988.
Can you remember any other players who have been subject to a special day or event by a football club? Let us know on our Facebook page or get on touch on Twitter @STVSport.