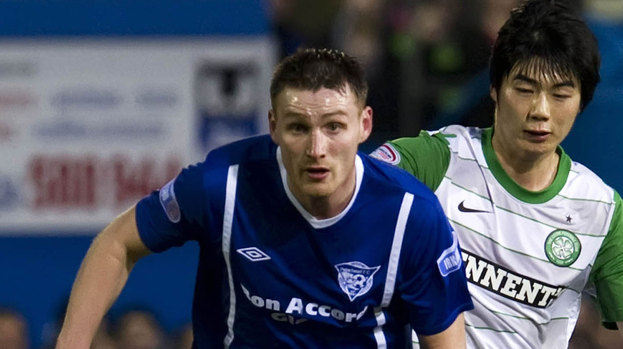 Peterhead striker Rory McAllister remains adamant he made the right call in deciding to play his football with the Blue Toon this season.
The front-man, who began his career at Aberdeen, has received criticism from certain quarters for turning down the chance to play full-time football last summer.
St Mirren were just one of the SPL clubs to declare interest, but McAllister opted to stay part-time for now in order to complete his plumbing apprenticeship.
But the forward insists he doesn't regret his decision to join the Division Three side and reveals he turned down a January loan back to Brechin City.
He said: "If you look at full-time football now, it's not the be all and end all that it used to be.
"You've got guys getting thrown out the game at 25 or 26 and they've got nothing to fall back on.
"I'm just happy where I am. I can finish my apprenticeship and I'll be happy when I get it.
"You've got to look after yourself. It's not about what other people think. I'm happy for people to say what they want. If they don't like it – then tough.
"I fancy my chances playing at that level again if I got a good opportunity, but like I say, I'm happy with what I'm doing just now and we'll see where I take it after that."
Indeed, Blue Toon fans can rest assured the former Scotland under-21 international has only recently again turned down the option to move to a higher tier.
McAllister said: "The gaffer offered me the chance to go back to Brechin on loan because I think some people said I wasn't happy, but I'm committed here and enjoying myself at Peterhead. I want to be here.
"I think it was just a misunderstanding and I've cleared it up with him obviously."
Working with Jim McInally is something McAllister feels he is already benefiting from.
He said: "Since the gaffer's come in he's been brand new. He's been really good to work with and he knows his stuff.
"He's tried to drill it into me to keep holding the ball up and stop trying to flick it round the corner. It's starting to work now and show in my game that it's working."
McAllister is keen to add to the 18 goals he has so far this season, but Peterhead's progression as a unit is extremely important to him.
He said: "It's good to do well yourself but obviously if I score more goals the team will do well.
"If you look at some of the performances, there's been highs and lows.
"Hopefully next year we can build on it and be a more consistent team, try and get up the league and maybe get promoted."
The 24-year-old curled home a superb effort against Queen's Park on Saturday in what proved to be the game's only goal.
He believes it is probably his best strike to date for the Balmoor side, but doubted whether team-mate Jamie Redman would give him the chance in the first place.
McAllister said: "I was screaming at him because I didn't think he was going to pass it, but he finally gave me it!
"I just stepped inside and tried to bend it round him (Neil Parry) and obviously it was good to get it in the top corner.
"Sometimes they go in the top corner of the stand but in this case it went in the top corner of the goal."
You can follow Kenny on Twitter @Kenny_Crawford