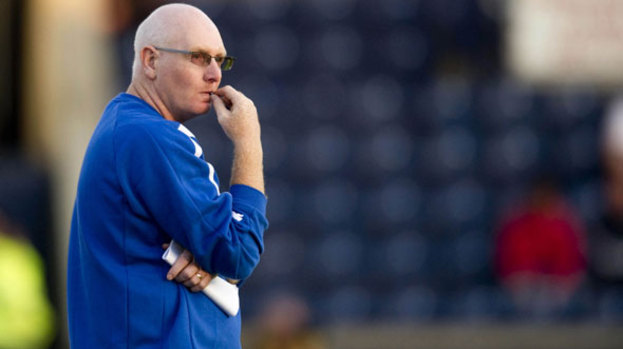 John McGlynn built his reputation at Raith Rovers on being difficult to beat and hard working, but low scoring to boot.
Even when Rovers won Division Two in 2008/09 and came second in the First Division in 2010/11, their results generally remained low scoring.
In 2010/11, Rovers scored substantially less (47) than winners Dunfermline (66) and fewer even than the sides finishing third and fourth. Falkirk scored 57 while Queen of the South netted 54 times.
In their Division Two title-winning season it was a similar story, with Rovers scoring less (60) than runners-up Ayr (71).
This relative lack of goals could be accommodated because the defence was, on the whole, incredibly strong. Built around a back five of goalkeeper (latterly the consistently excellent David McGurn), two experienced centre halves and young, reasonably adventurous full backs there was a good balance to the defence.
The Kirkcaldy side were usually supported by the two central midfielders who were more often concerned with their defensive, rather than attacking, duties.
In theory, one of the two was supposed to be more advanced but the reality was that one played ten yards inside the opposition half and rarely ventured much further.
Whether it was Iain Davidson, who progressed into an intelligent, tidy player under McGlynn, Stephen Simmons, Grant Murray, Joe Hamill or Chris Silvestro, they helped to shield the back four.
It was a set-up that ultimately paid dividends. In their debut season in the First Division under McGlynn, Raith scored the second fewest goals in the league, but finished in seventh place thanks to their vastly superior 'Goals Against' column compared to the bottom three.
Offensively, McGlynn's tactics were relatively simplistic in that they largely revolved around playing balls into channels and have one or two strikers who would pressurise defenders into making poor decisions.
In Division Two, Graham Weir was the striker who would hassle defenders and chase lost causes. The fact that he scored only 19 league goals in 115 appearances was largely irrelevant due to the number of opportunities he directly or indirectly created through his hard work.
The likes of Kevin Smith and David Goodwillie played the more typical centre forward role alongside Weir. In the First Division, Gregory Tade nominally replaced Weir, with first Johnny Russell and then John Baird taking the more traditional position.
Following the Frenchman's departure in the summer, Rovers started 2011/12 without a Weir/Tade type for the first time under McGlynn and as a result, they lacked a cutting edge for much of the season.
The wide positions were a problem position for McGlynn throughout his tenure. Until the loan signing of Hearts youngster Jamie Walker in 2011/12, Raith lacked any real width or pace out wide. A host of players were used but McGlynn tended to revert to either Allan Walker (a central midfielder) or Iain Williamson (signed as a striker).
Now that he has natural wingers in Walker, David Templeton and Andy Driver at Hearts, it will be intriguing to see how they are used in the forthcoming season.
One of the main criticisms under McGlynn was that Raith could be incredibly predictable. If the out ball to Tade or Weir wasn't working – or if Rovers played with two more traditional forwards as they did last season – they could be easy to defend against and lacking in any cutting edge.
The centre forwards under McGlynn have never been particularly physical and the lack of wingers meant that the team played very narrowly and rarely worked the ball into the box. Very often teams came to Stark's Park and could leave with a result by sitting deep and breaking fast.
Now that he has moved to Tynecastle, it will be interesting to see if McGlynn sticks to the format he honed at Raith or if, with better players and a new backroom team of Edgaras Jankauskas and Gary Locke, he will play a more expansive brand of football.
Certainly, he will be encouraged by what is a strong backline at Hearts and that may give him confidence to attack with greater numbers than he often did at Raith.
Given his managerial history, Hearts style of play may not be exhilarating this coming season but if he can adapt his style to fit the squad at Tynecastle, it may well be a steadily successful campaign.
Andy Harrow is the former editor of the Raith Rovers match day magazine. You can follow him on Twitter.
Related articles
People who read this story also read