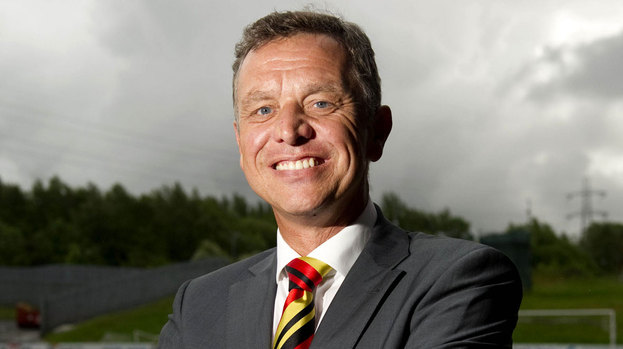 Partick Thistle chairman David Beattie believes Scottish football as a whole can capitalise on Rangers' uncertain future and push through necessary change in the game.
The Scottish Premier League will decide on July 4 whether to allow Charles Green's new company to take the place of Rangers in the league, with clubs needing to vote 8-4 in favour for the team to continue in the top flight.
If they don't get the required backing, Green could then apply to the Scottish Football League for the vacant spot in Division Three.
Another suggestion being made is that SPL clubs could let in Rangers, then immediately relegate them to the First Division, provided the SFL's clubs give their permission.
Such an eventuality isn't presently within the rules but Beattie believes anything is a possibility if it means Scotland's smaller clubs can reap benefits from the situation.
"This could be the making of Scottish football if it's handled right," Beattie told the Daily Record.
"This is the opportunity to change Scottish football and that's something we have been banging the drum about for far too long.
"From disaster comes opportunity but we needed something as cataclysmic as this to accelerate progress. It's sad it has come to this but we are where we are.
"Let's hope everyone embraces the need for change but it's all being driven because of the Rangers situation."
Amongst the ideas floated in some press reports on Thursday are the re-introduction of play-offs between the top two divisions, fairer revenue distribution and the revival of the Glasgow Cup competition to allow for a televised Glasgow Derby if Rangers were not in the top flight.
"It all about the detail, it's about dealing with sporting integrity as well as commercialisation," Beattie added. "Let's be honest, commercialisation doesn't work in Scottish football without Rangers.
"Sky Sports, other TV companies and sponsors need to have Rangers and Celtic vying with each other. That's a blunt fact of what generates the most income for Scottish football.
"The dichotomy for me has always been trying to balance sporting integrity with commercialisation as the two issues are so far apart but need to be brought together. This is a clever way of addressing both of them.
"I'd be happy with these proposals but whether the fans would be is another matter."
Related articles
People who read this story also read