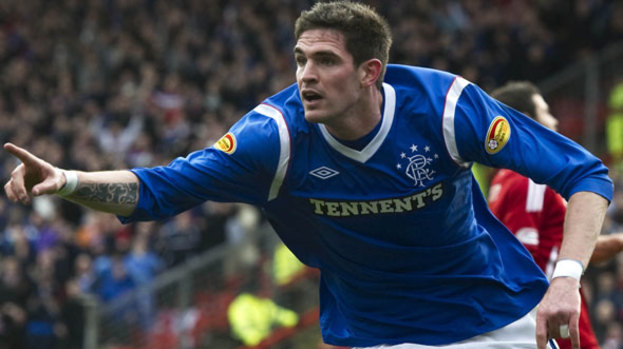 Kyle Lafferty and Jamie Ness have both refused to have their contracts with Rangers transferred to Charles Green's new company.
STV understands the pair could also be joined by at least two more senior players in announcing their intention to terminate their deals in the coming days.
Steven Naismith, Rhys McCabe, Sone Aluko and Steven Whittaker have already outlined their objections to playing for any "new Rangers", using their rights under TUPE employment law regulations to terminate their deals.
Ness has made just 18 appearances for the club having endured a long-standing groin injury, while Lafferty, who signed from Burnley in 2008, has scored 38 in 137 games.
Naismith and Whittaker claimed at a news conference on Sunday a lack of contact from Green, together with ambiguity over which league, if any, the club will be playing in next season contributed to their decisions.
"The only time we saw Charles [Green] was after the last game of the season," said Whittaker.
"The lack of contact has frustrated a lot of the players. It would have been nice to be kept up to date and get feedback. I've had one email last week and that's the only contact I have had with the club throughout this hard time."
Naismith added: "The uncertainty of what division the new company will be playing in was a factor. There's too much uncertainty for me to be waiting around to see where that is.
"I can't transfer to a company that I've never met, where the person involved has never met me and I don't know anything about any of the investors. There's just far too much uncertainty."
In response, Green threatened to pursue the players in court for walking away from their contracts and said any club which attempted to pick them up on a free transfer would also face action.
"I can assure those players and clubs who may be interested in signing them that Rangers will seek damages for breach of contract and for inducement to break contracts," he said.
"We have no wish to go to court on these matters but the players involved, their agents and clubs who may be pursuing these players should be in no doubt that we will do whatever it takes to protect the club's interests."
Businessman Green is bidding to field a team under the Rangers banner in the 2012/13 season, having bought the assets of The Rangers Football Club plc for £5.5m after a CVA proposal was recently rejected by creditors.
Membership of a league is required first and the new company's attempt to have Rangers' share in the Scottish Premier League transferred to them is set to fail, with six clubs having stated publicly they will vote against the plans.
A majority of 8-4 is required for any transfer to take place when a ballot is held on July 4.
Green's remaining option to field a team playing professional football in Scotland is to apply to the Scottish Football League for a place in their setup, with a view to starting in the Third Division.
If that application was successful, the Scottish FA board would then have to give their permission for the new company to inherit Rangers' membership to play football in Scotland.
More About Focus on Rangers
Related articles
People who read this story also read