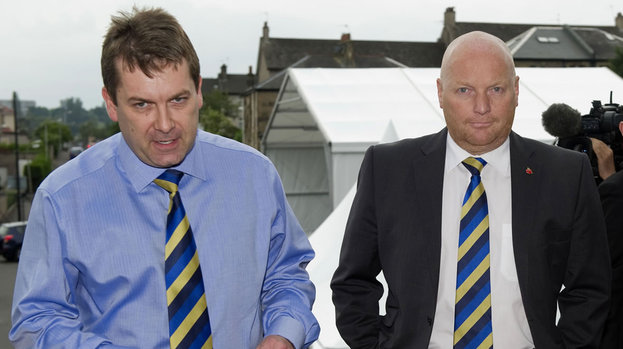 David Longmuir insists a Scottish Football League document urging clubs to take Rangers into the First Division paints the harsh reality of the criticial situation facing the game.
The 30 sides in the SFL setup received a presentation on Thursday saying £18m could be lost from Scottish football if Charles Green's newco Rangers were forced to go down the accepted road of applying to start again in the Third Division.
A compromise which would see SFL clubs receive an additional £1m in TV money for accepting the Ibrox club into the second tier was mooted, with £2m added onto the gates through travelling supporters.
Critics, including Raith Rovers director Turnbull Hutton, instantly dismissed the document as "blackmail".
Longmuir though says it paints an accurate picture of the crisis which could envelop his member clubs if they don't forgo their moral stance.
He told the Scottish Sun: "I'm sure there will be many opinions on the document but it was a factual document. That's the current reality.
"The document makes it very clear as to what our position is. The facts we have at the moment and that we are currently dealing with are in the document.
"The clubs will have had a chance to digest the document and think about it. There has been a lot of consultation and discussion and people taking a reality check.
"All I want is for Scottish football to thrive and survive. That's my main ambition."
Representatives from every SFL side will meet at Hampden on Tuesday to discuss the proposals, although a vote will not be taken.
The SPL will then kick out Green's application to transfer Rangers' member share to his new company on Wednesday, leaving the SFL with a decision to make.
Lawyers are deliberating over the SFL's rulebook to determine what majority would be required for any vote to take place, with those at the league unable to reach a conclusion over whether a 50%, 66% or 75% consensus is needed.
More About Focus on Rangers
Related articles
People who read this story also read