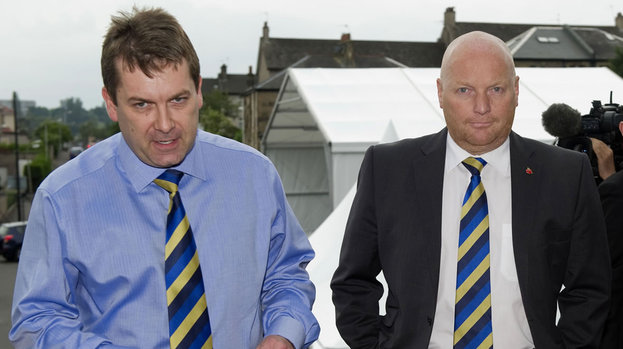 The composition of a new board under a merged Scottish league is one of the major factors in how SFL clubs could vote in allowing a newco Rangers into their set-up.
Twenty-nine representatives from teams in the First, Second and Third Divisions will give their verdict this Friday over whether to allow Charles Green's company to play in their league as the Ibrox club.
Should the vote be passed, a second resolution will see clubs decide whether or not to give the SFL board the power to put the new team straight into the First Division, depending on a deal being struck with the Scottish Premier League and Scottish Football Association over reconstruction of the country's leagues.
Under the proposals, the formation of a Scottish Professional Football League (SPFL) is being discussed as a concession from the SPL and Scottish FA, leading to the amalgamation of the SPL and SFL to form one league body.
A new league board would be put together to rule on key issues affecting the divisions. STV understands some SFL clubs are pushing for that board to have an equal number of representatives from both the SPL and SFL, as well as having a quorum of independent members.
The introduction of a play-off between the SPL and the First Division is on the cards, as is a change to the financial distribution model in order for teams in the second tier to receive more money from the top flight.
SPL chief Neil Doncaster and his Scottish FA counterpart, Stewart Regan, are in constant dialogue with SFL chief executive David Longmuir as discussions continue over what deal can be struck.
A source from one SFL club told STV: "We must have strong and balanced governance. I am all in favour of amalgamation but if for example a new joint league board is to be created with say, eight people on it, then we are looking for parity with the top flight clubs as to who is on it.
"For example, we are looking for it to consist of three SPL, three SFL and two independent persons."
SFL vote
SFL clubs will vote on three resolutions on Friday with regard to allowing the newco Rangers into their league.
The first vote will be simply to permit Sevco Scotland Limited to join the league as an associate member, playing as Rangers Football Club.
The second resolution is specifically linked to the deal currently being negotiated between the three governing bodies. It asks for SFL clubs to vote for Rangers to play in the Third Division and, if a majority is in favour, allow the board to instead direct the club to play in the First Division dependent on a satisfactory agreement being reached.
Resolution three would then ask SFL clubs to approve the resignation of either Dundee or Dunfermline Athletic, depending on which club is invited to join the SPL.
More About Focus on Rangers
Related articles
People who read this story also read