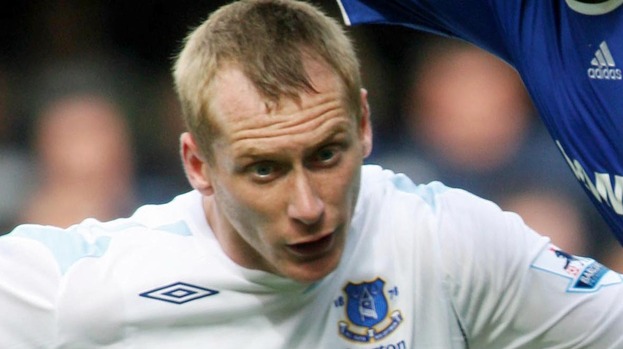 Every so often, in an event so rare that Football Talk can't remember the last time it happened, one player transcends our humble round-up of internet chatter.
Today is one such day. Step forward, Tony Hibbert.
He may look like Vladimir Putin carved from a shoe, but the Everton right back did the unthinkable in his own testimonial and rocketed home his first ever goal. From 30 yards no less.
For the uninitiated, the word has long echoed around Goodison Park that such an event would foretell the collapse of the fabric of society.
Cars would be torched, shops looted, and Football Talk would resist making a tired joke about Scousers.
Closer to home, cowering beneath the shadow of Hibbert's achievement, Celtic made a tremendous leap into the Champions League play offs.
Motherwell fell short but are unbowed, while Dundee United can join Well and Hearts in the Europa League's final qualifier against a vulnerable Dinamo Moscow tonight.
So we go on in hope. Football Talk just wants to let the fans know where we are right now.
headsgone
TOP STORIES
Neil Lennon hints at new signings to bolster Champions League hopes
The Celtic boss hopes he can bring in reinforcements as the Hoops took a giant stride towards Champions League qualification.
Stuart McCall felt helpless in the Greek heat
It was too arduous a task for McCall's men in the sweltering Athens night. But European nights are not gone from Lanarkshire yet.
Gary Mackay-Steven tipped to give struggling Dinamo Moscow the runaround
Striker Johnny Russell reckons it is GMS FTW in the Russian capital.
Kilmarnock take former Real Mardrid youth Borja Perez on trial
Spanish youngster arrives at Killie hoping for some sage philosophy from the gaffer.
Kevin Kyle is 'shocked and proud' the run out for Rangers
The perma-crocked front man has landed a dream gig at the Gers and says he's going to stick it to the medicals teams who wrote him off during 19 months out with a hip injury.
Steven Fletcher reveals to the world his #headsgone
Digital communications guru Fletch takes to the interwebs to coin a marvellous new hashtag while classily revealing he doesn't fancy a year in the Championship with Wolves.
MUST READ
Vincent Pericard and the battle to help footballers struggling mentally
The former Juventus, Stoke and Portsmouth player tells the story of his struggles that led to him founding a welfare management company for players cut adrift in the game. A powerful look at the secret illness affecting an increasing number of stars. (The Football Ramble)
Eredivisie preview: Can Ajax continue their resurgence?
All things Dutch football as the ever-exciting Eredivisie season nears. (Tea and Busquets)
Have a seat, relax and get to know Tony Hibbert, the workmanlike pro who was certainly not unfairly cast as a sideshow when he was paraded side-by-side with Wayne Rooney at Goodison Park. (Blue Kipper)
MUST WATCH
You must watch as Hibbo crisply struck free kick sparks pandemonium in the stands and on the pitch.
More About Football Talk
Related articles
People who read this story also read