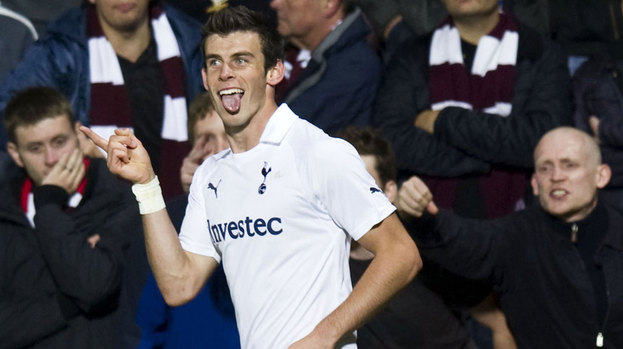 Football Talk occasionally casts it's eye o'er the border the watch the English Premier League and has always thought Gareth Bale was happy to crumple to the turf on a regular basis without contact being required.
Imagine our surprise then, when Joe Ledley suggested Scotland players may go out of their way to kick the Wales star when the teams meet on Friday night. It's not as if any of our players have previous in that regard, is it?
Elsewhere, Steven Pressley has revealed that Manchester United were close to signing Marius Zaliukas. With the Hearts stopper out of contract in the summer, could he be back on SAF's radar? Probably not.
And for your viewing pleasure, there's a classic long-range keeper goal and a bit of the old ultraviolence involving a match official.
The headlines you need to see today
Scott Brown, James Forrest and Andy Webster miss Scotland training
The three didn't take part in the final full session before the team heads to Cardiff.
Don't let them put the boot into Bale
Joe Ledley is worried that Gareth Bale will be singled out for harsh treatment by Scottish players (Daily Record)
Scotland must beat Wales or we can kiss World Cup hopes goodbye, admits Christophe Berra
It's Battle of Britain, a grudge match and a must-win encounter all wrapped in one (Daily Record)
Celtic boss Neil Lennon is sitting on the fence ahead of the World Cup qualifier but thinks it will be an all-action affair (Scottish Sun)
Scotland stopper Charlie Mulgrew eager to leave Wales on the ropes after weekend KO against Hearts
After suffering a head knock at the weekend, Charlie mulgrew is back up off the canvas and ready to face Wales.
Ex-Hearts star reveals Manchester United interest in Marius Zaliukas
Yes, you did read that correctly.
John McGlynn must wait for Rudi Skacel news
He's been scoring in training and the rumour mill has gone beyond overdrive but the Hearts boss has no news on a contract for Rudi.
Kilmarnock sign striker Rory McKenzie on extended deal until 2014
The forward has committed his future to Rugby Park.
The articles to read this lunchtime while savouring a supermarket sandwich
How Aberdeen's midfield tweak has solved their goal scoring crisis
Our infographic shows how the Dons learned to use the 1 in a 4-5-1.
The case for the Scotland defence
Richard Wilson says the attacking options aren't the only part of the Scotland team that merit attention (The Herald)
Scotland Under Craig Levein: On the Road to Nowhere?
Ewan McQueen considers Scotland's position ahead of the World Cup qualifying double-header (Jumpers for Goalposts)
Football's greatest rivalries
The grudges that make Ridley Scott's The Duellists look like a sweet romantic comedy (The Guardian)
The videos you need to watch today
The Turkish third division, where men are men and referees are psychopaths.
And this long-range beauty makes it difficult for one keeper to show sympathy for another post-match.
Related articles