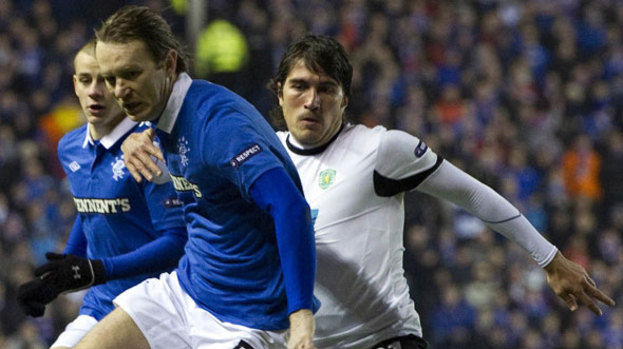 For both these clubs, this two-legged tie sandwiched a league fixture far more important – a derby. Rangers supporters will be depressed following the 3-0 defeat to Celtic at the weekend, but Sporting's fans know exactly how they feel.

Their loss to fierce rivals Benfica on Monday night may have been only 2-0, but considering Sporting were at home, and played the second half with a man advantage, their derby defeat was probably even more humiliating.

The first leg

The 1-1 scoreline in the first leg offers further symmetry. Sporting needed a late equaliser from substitute Mati Fernandez,. Whilst Rangers will be disappointed that they let their lead slip, in truth the result was an accurate reflection of the balance of play.

The Portuguese side largely dominated the midfield zone at Ibrox, by using three deep central midfielders – the two veterans, Pedro Mendes and Maniche, and the younger legs of Spaniard Alberto Zapater.

As Rangers were fielding a 4-2-3-1 system with El-Hadji Diouf operating just off Kyle Lafferty upfront, Sporting had a three versus two advantage in the centre of midfield. This resulted in them having 55 per cent of possession throughout the game, a superiority that was particularly obvious in the opening period.

"I was a little disappointed with the way we played in the first half", Rangers boss Smith admitted after the game. "Our possession of the ball wasn't what it should have been".

Rangers responded with a stronger performance in the second half – rather than focusing on keeping possession, they pushed higher up the pitch and penned Sporting into their own half. They played a more direct form of football at a higher tempo, and their opener through Steven Whittaker came when they were enjoying their best spell in the game.

How the two teams lined up at Ibrox last Thursday.
Having gone 1-0 up, however, Rangers sat back and allowed Sporting to take the initiative. Whilst Smith didn't make any substitutions, "there were not many changes we could have made that would have made a great deal of difference", he claimed, his opposite number Paulo Sergio made three.

Two of them were simply straight swaps, but another turned out to be crucial. Chilean playmaker Fernandez replaced Maniche and played higher up the pitch, altering Sporting's formation to a 4-2-1-3.

The extra attacking threat made Sporting more dangerous, and Fernandez was fittingly the man who got the equaliser. "We allowed Sporting too much of the ball after we scored", Smith acknowledged, and the absence of Lee McCulloch was more obvious than ever. Rangers lacked a ball-winner and allowed Sporting's technically proficient central midfielders time to pick a pass.

Smith will be encouraged by how many chances Rangers managed to create, however. In particular, his side got joy down the flanks. Sporting's wide players rarely covered the full-backs, and therefore Rangers got crosses into the box easily, with Lafferty going close with two near post headers.

The return leg

Smith's scouts at the Benfica game on Monday will have reported that Sporting again looked vulnerable to balls played in from wide zones. Both the goals they conceded were from crosses, and Rangers will surely look to exploit that weakness again here.

First, however, Smith must decide upon his side's overall mentality. The key to this game is the fact that Rangers have to score, or they will be eliminated – a 0-0 means an exit on away goals. Therefore, they can't be too defensive, but an attacking approach will play into Sporting's hands, as they have pacy forwards who would enjoy an open contest. The best approach will be a counter-attacking strategy.

Rangers have played that way before at the Estadio Jose Alvalade with great success. The UEFA Cup quarter-final of 2008 saw them arrive in Lisbon after a 0-0 in the first leg, and after a subdued first half performance, two breakaway goals from Jean-Claude Darcheville and Steven Whittaker in the second period resulted in a famous victory.

How the two teams are likely to shape up on Thursday night.
Of the 13 players Rangers used in that game, only Whittaker, Steven Davis and Allan McGregor will play a part here. But Smith would do well to show the other players in the squad a video of the performance, it's exactly what Rangers need again.
The key will be pace and energy, particularly in wide zones. El-Hadji Diouf was used centrally in the first game, but might be better deployed on the flank here, as he was at Celtic Park at the weekend. That would allow Rangers to switch to a 4-5-1 system with three central midfielders, allowing them to compete three on three in the centre of the pitch, where they were overrun in the first game.

Smith might find that Sporting also change formation. Fernandez helped turn the game at Ibrox, and was also his side's brightest player against Benfica. He is an old-fashioned 'number 10', however, and plainly doesn't fit into a 4-3-3, so Sporting are likely to move to a 4-2-1-3 shape, with Fernandez replacing either Maniche or Pedro Mendes.

That would further the need for Rangers to use a deep midfielder, and Kyle Bartley may start. He is a centre-back by trade, but has been used in central midfield by Smith since joining on loan from Arsenal. He'd be perfect for picking up the tricky Fernandez, a thoroughly inconsistent player, but one who can be devastating if given time on the ball.

In all, the counter-attacking brief might suit Rangers. Having played so defensively in the Champions League this season, they seemed uncomfortable when trying to take the initiative in the first game. The likes of Diouf, Whittaker and Davis are all good at playing on the break, and poor ball retention will not be as much of an issue away from home.

Rangers can look to their previous trip for Lisbon for inspiration but also to Tottenham's display in Milan last week. Sitting back, keeping the midfield close to the defence and playing on the break down the flanks is the best strategy here. Do that efficiently, and Rangers might enjoy another famous night in Lisbon.
Michael Cox, as well as writing on Rangers' tactics for their game against Sporting for STV, runs the ever-popular tactics blog Zonal Marking.
Live on Thursday night

STV are covering Rangers' game in Sporting Lisbon on Thursday night, providing you the opportunity to talk about the match as it happens on our live chat service. We'll also be bringing you live updates on all the action in Portugal. Log on to stv.tv/sport from 5.45pm on Thursday night.