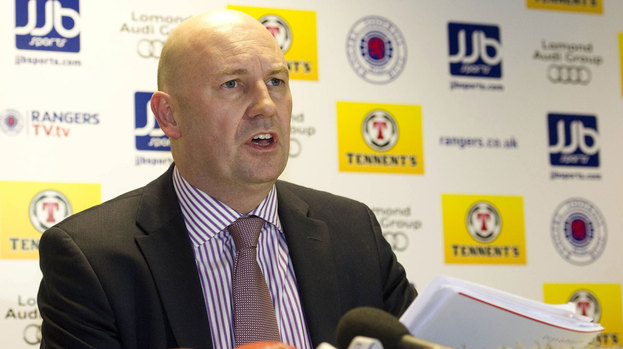 Rangers' plunge into administration will relieve the financial uncertainty which has troubled the club for years, according to one of the men appointed to run the club.
Duff and Phelps were appointed administrators at the Court of Session on Tuesday, with Paul Clark and David Whitehouse now in control of affairs at Ibrox.
HM Revenue and Customs applied pressure for Rangers to be put into administration ahead of schedule, after it emerged the club had not paid £9m in tax since Craig Whyte's takeover last May.
"We had a staff meeting here at Ibrox a short time ago and that was very well attended," Clark told Rangers TV. "I think we had the vast majority of the staff able to attend.
"We will be conducting regular meetings with the staff and, wherever we can, will keep giving messages to the fans who we know have an interest in the work that we are doing.
"I can't give any firm commitment but certainly over the next day or two we hope to get control of the finances of the club and to better understand what we need to do in the coming days and weeks.
"The club had been in such a period of uncertainty that the administration will actually relieve that uncertainty and start to build the future."
Rangers could yet owe up to £75m to HM Revenue and Customs, if a tax tribunal rules against the club in the coming weeks.
Owner Whyte started the process to put the club into administration on Monday, only for the process to accelerate on Tuesday. The majority shareholder says it was inevitable Rangers would have to go through financial restructuring,
"Due to its cost structure, the club has been loss making for many months," Whyte told the club's official website.
"This situation has resulted in increasing liabilities and the club has been in discussion with HMRC regarding these liabilities.
"These liabilities combined with the threat of the outcome of the first-tier tax tribunal left the club no option but to formally restructure its financial affairs."
IN DETAIL
More About Focus on Rangers