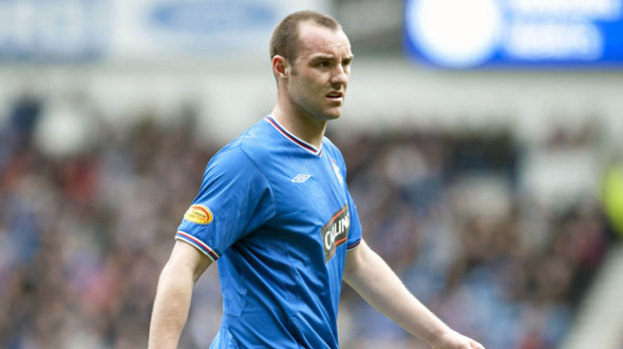 Being a prolific scorer of goals is a hard enough task at one club, but repeating the feat at different teams is even tougher.
Not only do you need to learn to adapt to the way your new team plays, but you have to hope that your new team mates (and manager) provide you with the same opportunities as your previous club did.
Today we look at the 12 players who have consistently provided plenty of goals wherever they've turned up in the SPL.
Kris Boyd - Kilmarnock (02/03, 03/04, 04/05, 05/06) and Rangers (05/06, 06/07, 07/08, 08/09, 09/10)
Starting with the most obvious answer, the all-time top goalscorer in the SPL finished top scorer for Kilmarnock on no fewer than four occasions. Boyd scored 12, 15 and 17, before managing 15 in just half a season and moving to Rangers. Remarkably he finished top scorer at Ibrox in that same half season, adding 17 more. He finished top of the scoring charts at Rangers in each of the following four year.
Paul Hartley - St Johnstone (01/02) and Hearts (04/05)
Perhaps a surprise, Hartley is included by virtue of his record at Hearts and St Johnstone. While at the Perthshire club, Hartley finished top scorer with four goals as St Johnstone were ultimately relegated. Having moved to Hearts he finished top scorer with 11 goals in 2004/05.
Michael Higdon - Falkirk (07/08) and St Mirren (10/11)
The English targetman first topped a club goalscoring charts at Falkirk, scoring eight for the Bairns in 2007/08. Having moved to St Mirren he repeated the feat with the Paisley club, scoring 14 in 2010/11. He could yet add a third with Motherwell this season.
Derek Lilley - Dundee United (00/01 and 01/02) and Livingston (2003/04)
Lilley moved to Dundee United after a spell in England and finished top scorer in 2000/01 and 2001/02 with 6. In 2003/04 he scored 12 for Livingston.
Steve Lovell - Dundee (02/03 and 04/05), Aberdeen (05/06) and Falkirk (08/09)
Lovell is the only man on the list to have finished top scorer with three different clubs. At Dundee he scored 11 in 2002/03 and 12 in 2004/05. He moved to Aberdeen and matched Jamie Smith's six in 2005/06. The third move was to Falkirk, where he scored 8 in 2008/09.
Scott McDonald - Motherwell (04/05, 05/06, 06/07) and Celtic (07/08 and 08/09)
The Australian was the top scorer for three consecutive seasons, between 2005 and 2007, scoring 15, 11 and 15. He moved to Celtic and had a personal best return of 25. He added a further 16 the following season.
Kenny Miller - Hibernian (99/00) and Rangers (10/11)
The well travelled Scotland striker first topped a club's goalscoring charts in Hibernian's maiden season in the SPL, scoring 11 goals in 99/00). After spells at Rangers, Celtic, Derby and Wolves he returned to Ibrox and finished top scorer with 21 in 2010/11.
Lee Miller - Dundee United (05/06) and Aberdeen (07/08 and 08/09)
The Carlisle striker managed 10 goals in 2005/06 while at Dundee United. He moved to Aberdeen and scored 12 in 2007/08. He finished top scorer the following season with 10.
Nacho Novo - Dundee (03/04) and Rangers (04/05)
The Spaniard managed 19 goals for Dundee in 2003/04, prompting interest from Rangers. The Ibrox club brought him to Glasgow and he immediately repaid their faith by matching his previous season tally in 2004/05.
Anthony Stokes - Falkirk (06/07) and Hibernian (09/10)
Stokes first caught the eye while on loan at Falkirk from Arsenal. The Irishman managed a memorable 14 goals in just half a season at the Bairns. Following a spell at Sunderland, he moved to Hibernian where he finished the 2009/10 season as the top scorer with 21.
John Sutton - St Mirren (06/07) and Motherwell (09/10 and 10/11)
Sutton is another man of many clubs and first topped the SPL goalscoring charts for St Mirren with 11 goals. He moved to Motherwell and managed 12 in 2009/10 and 10 in 2010/11.
Barry Wilson - Livingston (01/02) and Inverness CT (04/05)
Wilson first topped the goalscoring charts at Livingston, albeit shared with Quino, when he scored eight in 2001/02. He improved on that record to reach the top of Inverness' goalscoring table in 04/05 with 10.
More About SPL trivia