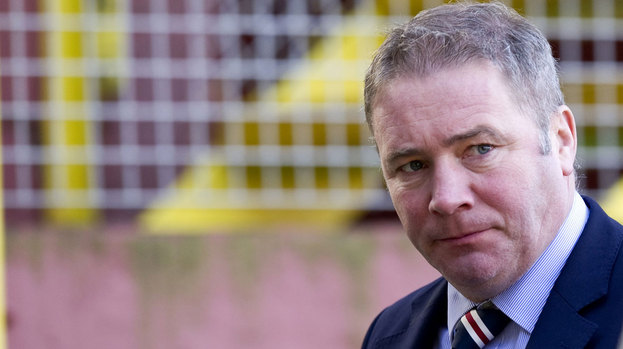 Rangers manager Ally McCoist has said that he is disgusted by threats made to SFA Judicial Panel members but says he stands by his comments on transparency.
McCoist criticised the decision to punish Rangers with fines and a transfer ban for bringing the game into disrepute but also said that the members of the panel who reached the verdict should be publicly named.
After the identity of the three-man panel, who are appointed on condition of anonymity, was published on websites, the Scottish FA contacted police over threats and fears for their safety.
McCoist condemned those who had made threats but said that he still believed that those who sit in judgement on clubs should be identified.
"When I called for full transparency on Tuesday I took the view that the decision by the judicial panel should be subject to proper scrutiny," the manager said.
"It is unthinkable in any walk of life that such a significant punishment would be meted out without full transparency.
"That said, I would not for one moment want anyone to interpret my remarks as a signal to engage in any form of threatening behaviour. Such activity disgusts me and anyone who engages in it does Rangers Football Club nothing but harm.
"No Rangers supporter should get themselves involved in it - not now nor at any time."
McCoist said that the appropriate channels should be used to appeal the decision but urged the SFA to expedite the process given the potential effects of the punishment.
"Our focus has got to be firmly on ensuring that the Club's case in appealing the sanctions imposed on us is put forward robustly and in the appropriate manner," he said.
"We suffered from it and still are. I hope that our appeal can be dealt with by the SFA as quickly as possible as the situation for the Club and the possible ramifications for Scottish football are very serious."

More About Focus on Rangers
Related articles