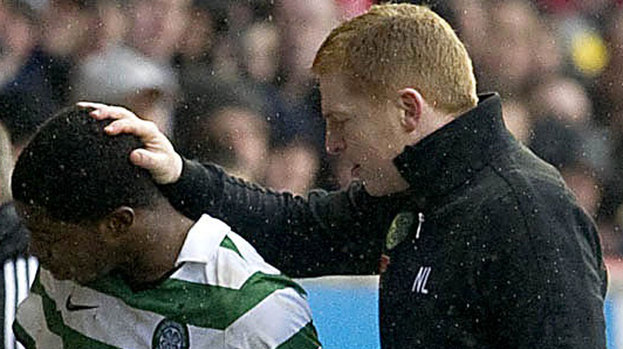 Some things have been so predictable of late, Football Talk's next paragraph can be reused by all who see fit in the coming weeks when the situation calls for it.
There has been another twist in the Rangers takeover story. Party (this time Bill Miller) has pulled out of the bidding process/a new party is riding to the rescue/Rangers have been taken over (delete as applicable).
In the world outside of Ibrox, Celtic have been sweeping the board in the end of season awards, including ANdre Blackman, who has won a club prize for a tackle on his own manager.
There's video galore from around the world of football today for your viewing pleasure, as well as some great must reads.
TODAY'S HEADLINES
Neil Lennon plans sensible spending to take Celtic forward next season
The boss says he won't compete with English clubs as he looks to improve his squad.
James Forrest prepared to put team's goals ahead of personal glory
The winger says Celtic's title win is more important than the SPL Young Player of the Year prize.
Celtic scoop four trophies in Scottish Premier League end-of-season awards
Neil Lennon, Charlie Mulgrew, James Forrest and Paul George have all been honoured.
Sone Aluko adamant he made a 'great decision' in signing for Rangers
The former Aberdeen winger says he has no regrets over paying his way to move to Ibrox.
Kilmarnock's Danny Buijs plans to head back to Holland this summer
The Dutchman will return home after an injury-hit season in Scotland.
MUST READ
Battle for the worst SPL disciplinary record goes to the final day
The latest bans in Scotland's top flight, as well as a season-long card count.
Ibra and Milan "not used to not winning"
Paolo Bandini reflects on Zlatan Ibrahimovic's first non-league winning season since 2003. (The Score)
Cardiff City set for new red kit and club emblem
Supporters of the Bluebirds are understandably upset as plans are revealed for some drastic, unwelcome changes at their club. (Wales Online)
MUST WATCH
Andre Blackman wins Celtic's tackle of the season after taking out his boss
Didier Zokora takes his revenge on Emre Belozoglu
"He kicked me straight in the balls. Thank Allah I have a child, or I may not have become a father," Emre said after the match.
"His tackle should have been a red card, and he should have been banned for two matches."
The same punishment, incidentally, the former Newcastle United player received for "foul and abusive language" on their last encounter, which the Turkish Football Federation said wasn't racist.
Player gets booked, moonwalks in protest
Xabi Alonso winds up Jose Mourinho as Liverpool threaten FA Cup fightback
With the Reds taking on Chelsea in Saturday's final, the midfielder and his manager had one eye on London ahead of Real Madrid's game with Granada. (Thanks to Sport360)
More About Football Talk
People who read this story also read