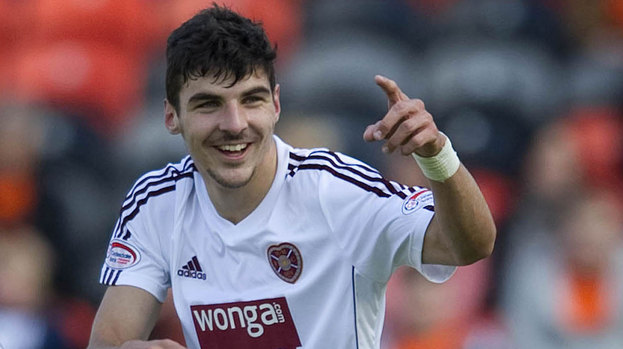 They say a week is a long time in politics and football. Until someone invents some kind of time-measuring device we'll just have to take their word for it.
It was week seven of the SPL and things were not as they seemed. Motherwell and Hibs were looking to open up a healthy lead at the top of the table, Ross County were defending their unbeatableness/unbeatability/inundefeatability against St Johnstone, while Celtic were going to beat Dundee.
Duh duh duh duh (click click), duh duh duh duh (click click).
That's the Addams family theme tune in words. Of course.
All good things must come to an end. Sooner or later they'll decide that The Simpsons has run its course and the world won't quite seem the same place. Equally, all quite-good things must come to an end, like Top of the Pops; so fondly remembered, so pined for by those who watch the cherry picking of TOTP2, so frequently rubbish. The long and the short of it is that everything ends.
Like Ross County's unbeaten league run, the start of which was depicted on woven murals, it was such a long time ago.
All credit has to go to any side that can manage a 40-match unbeaten run; there is a huge amount of spirit and determination needed to make that happen. Arsenal's "invincibles" went 49 games without loss, so that does give some perspective. This was a huge achievement.
However, latterly the emphasis for the Adams Family has been on staying unbeaten rather than "adding to an unbeaten run". To use a parable rarely applied to football; it was all girls chasing Benny Hill rather than Benny Hill chasing girls.
Ah, the oldies are… the goodies?
St Johnstone, on the other hand, quite like making mischief amongst teams unaccustomed to defeat. It was, after all, St Johnstone who ended Inverness' year long run without defeat away from home back in 2011. The link may be tenuous and the teams involved completely different, but it's a good story dammit.
Liam Craig found the corner of the net with one of those goals that proves it's very difficult to judge just how far out 30-35 yards actually is, but then Rowan Vine got sent off for the second time this season after a spot of sumo with Richard Brittain. Lomas' side's hopes appeared to have died on the… no. No. I won't.
Sam Morrow's equaliser led to Ross County actually reversing their Benny Hill-ness, only for Frazer Wright to head a winner from a corner. Derek Adams quite correctly suggested that his team didn't deserve to lose. Careful where you put that emphasis, Derek.
You've got to pick a pocket or two.
According to Sunday's papers, Josh Magennis is now a full back who used to be a striker, who considered being a rugby player after failing to make it as a goalkeeper. That's not so much a utility man as a human swiss army knife. Still, after being converted from forward to full-back he explained that he'd been learning all he could from watching Ashley Cole. He did so by emulating the Chelsea man's marauding runs and late goal, rather than by cheating on Cheryl "queen of hearts" Cole with the hairdresser and the vomit and stuff.
Managers frequently talk of points gained or dropped, lost or stolen during the course of a football match. Aberdeen's match with Motherwell had more pickpocketing than a year in the life of Fagin.
Aberdeen started fairly well, scoring their first goal at Pittodrie this season through Gavin Rae, then Motherwell came back into things, dominating possession without creating too many chances. Just before half-time they got a somewhat fortuitous if highly deserved equaliser from goal machine and chair-puller-in-chief Michael Higdon. It looked finely poised.
Then, in the second half, Stuart McCall's side gave Aberdeen a bit of a going over with a pair of pliers and a blowtorch. Shaun Hutchison's header put them in front before Nicky "I am the" Law looked to have put Motherwell three points clear at the top of the SPL.
Having been given a bit of a doing for 70 minutes, Aberdeen got back in the game through Niall McGinn's header, before Magennis' injury time equaliser.
Craig Brown magnanimously suggested that Motherwell are the best side his team have faced so far this season, while his counterpart in the away end opted to look on the result as a point gained rather than two dropped. Tom Hateley was a little more concise in his summary.
Gutted.

— Tom Hateley (@TomHateley6) September 23, 2012
The other side with the chance of extending a lead at the top of the division were I-still-can't-believe-it's-Hibernian. Pat Fenlon not only makes for an amusing spoonerism, but has also put together a far more combative and cohesive side than he inherited last year. For almost the entire first half Hibernian battered Inverness, scoring two thanks to Eoin Doyle and David Wotherspoon and creating enough chances for umpteen more.
The eagle-eyed amongst you will note the weight that the word "almost" bore in that last sentence. Terry Butcher's side reminded Hibs that they are, well, still Hibs for the moment when Conor Pepper made things spicy, showed he is a well-seasoned pro, etc, etc, etc, etc.
Richie Foran's late equaliser rubbed salt… nyaaaaaaaaaaaa!!!!!
Anyway, in short. The problem with the SPL title race isn't that there's no team good enough to sustain keeping pace with Celtic, it's that there's probably four or five of them and they'll all strip points from each other.
Hearts remember where the goal is. Callum Paterson proves the magic of the moustache.
Over the last few weeks Hearts would have struggled to hit the proverbial cow's posterior with a banjo if they were provided with a Texan beef farm and the touring instruments of Mumford and Sons. Things weren't likely to get better when they went to Tannadice, where they hadn't won since the days of Csaba. Whenever any story starts with this sort of narrative, you know where it's going next.
17-year-old Callum Paterson scored twice in a thoroughly convincing 3-0 win, presumably pausing to twirl his surprisingly well-formed moustache. We often ask where Scottish football went wrong; was it in the training, the opening up of cross-border transfers, the over-inflated wages? No, Scottish football went wrong when footballers stopped growing moustaches. Is it any coincidence that during our last great club era in the 1980s we boasted the likes of Bobby Connor, Willie Miller, Graeme Souness and John Wark? I mean, who argues with the Begbie look?
Look at the Dutch, when they created Total Football they had guys who looked like this…
Infact,everything is better with a moustache.
Results
Celtic 2-0 Dundee
Dundee United 0-3 Hearts
Hibernian 2-2 Inverness CT
Kilmarnock 3-1 St Mirren
Ross County 1-2 St Johnstone
Aberdeen 3-3 Motherwell
Related articles
People who read this story also read