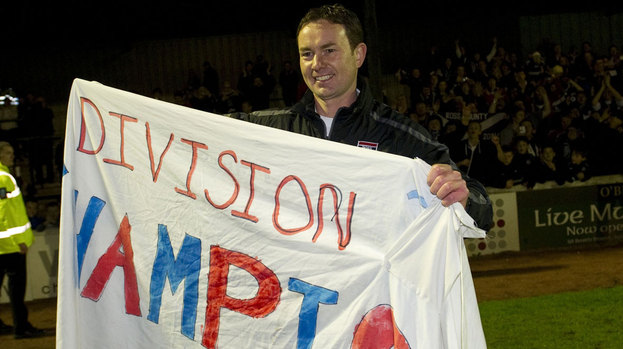 Ross County FC have called on supporters to help them prepare for their first season in the SPL by giving their backing to a new fundraising campaign.

The newly-crowned First Division champions say installing under-soil heating and turning the ground into an all-seated stadium will cost in the region of £1.4million.
While the club's board of directors aim to raise cash from backers and additional borrowing, they have asked each fan to contribute £20 to the cause.
In a statement on the club's official website, officials believe they could raise £400,000 if each fan who attended their 2010 Scottish Cup final defeat to Dundee United contributes.
They add: "Every pound raised through donations will offset the borrowing the club has to make on the stadium development project and will allow us to release vital funds to the manager for his playing squad."
Derek Adams put his weight behind the campaign, adding: "We have a fantastic support that follows us week in and week out, through tough times as well as the successful ones. There are also a lot of people out there who are Staggies at heart as the amazing 20,000 people that supported us at our cup final appearance showed.
"There are hugely exciting times ahead at Ross County, but also real challenges on and off the field.
"The board are realistic about how they are going about meeting those challenges and want to ensure our progress is achieved in a sustainable way.
"We need to comply with the requirement as set out by the SPL, and this is expensive, but it is vital I have the right budget to gather a squad of players to compete at this higher level. I therefore hope that our supporters will back us in this fundraising initiative."
The club say donations can be completed on their official website with a collection also being held at County's final home game of the season on April 28.
IN DETAIL