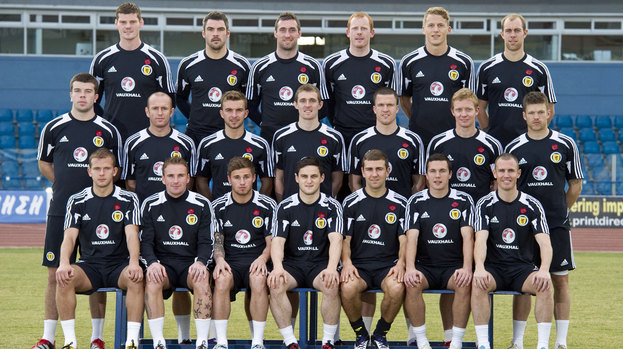 The Online Writers' Scottish Footballer of the year is into its second year and we're looking for all online writers to give us their thoughts.
Last year had a clear winner in the shape of Charlie Adam, but this year seems a far more open field with a wide variety of players having exceptional seasons.
To help (or perhaps hinder!) the debate we've come up with the players that we think deserve to be crowned Online Player of the Year. Maybe you'll agree, hopefully you won't, but the main aim is to start the debate so we get a good cross section of votes.
So who were our picks?
Andy Coyle
1. Charlie Mulgrew (Celtic)
2. Steven Fletcher (Wolves)
3. James Forrest (Celtic)
4. Cammy Bell (Kilmarnock)
5. Jordan Rhodes (Huddersfield)
Chris Harvey
1. Paul Dixon (Dundee United)
2. Johnny Russell (Dundee United)
3. Kenny Miller (Cardiff City)
4. Charlie Mulgrew (Celtic)
5. Jordan Rhodes (Huddersfield)
Danny Hayes
1. Charlie Mulgrew (Celtic)
2. Steven Fletcher (Wolves)
3. James Forrest (Celtic)
4. Johnny Russell (Dundee United)
5. Jordan Rhodes (Huddersfield)
Grant Russell
1. Jordan Rhodes (Huddersfield)
2. Charlie Mulgrew (Celtic)
3. James Forrest (Celtic)
4. James Morrison (WBA)
5. Steven Fletcher (Wolves)
Jamie Borthwick
1. Charlie Mulgrew (Celtic)
2. Jordan Rhodes (Huddersfield)
3. James Forrest (Celtic)
4. James Morrison (WBA)
5. Steven Fletcher (Wolves)
Keith Downie
1. Jordan Rhodes (Huddersfield)
2. Charlie Mulgrew (Celtic)
3. Steven Fletcher (Wolves)
4. James Morrison (WBA)
5. James Forrest (Celtic)
Raman Bhardwaj
1. Charlie Mulgrew (Celtic)
2. Steven Fletcher (Wolves)
3. Allan McGregor (Rangers)
4. Jordan Rhodes (Huddersfield)
5. Steven Naismith (Rangers)
Scott McClymont
1. Charlie Mulgrew (Celtic)
2. Jordan Rhodes (Huddersfield)
3. Dave Mackay (St Johnstone)
4. Johnny Russell (Dundee United)
5. Steven Fletcher (Wolves)
Thom Watt
1. Steven Fletcher (Wolves)
2. Charlie Mulgrew (Celtic)
3. Paul Dixon (Dundee United)
4. James Morrison (WBA)
5. Liam Craig (St Johnstone)
Tyrone Smith
1. Paul Dixon (Dundee United)
2. Charlie Mulgrew (Celtic)
3. Johnny Russell (Dundee United)
4. Liam Craig (St Johnstone)
5. Ian Black (Hearts)
Caroline Henderson
1. Charlie Mulgrew (Celtic)
2. Cammy Bell (Kilmarnock)
3. Jordan Rhodes (Huddersfield)
4. Allan McGregor (Rangers)
5. Ian Black (Hearts)
More About Scottish Player of the Year