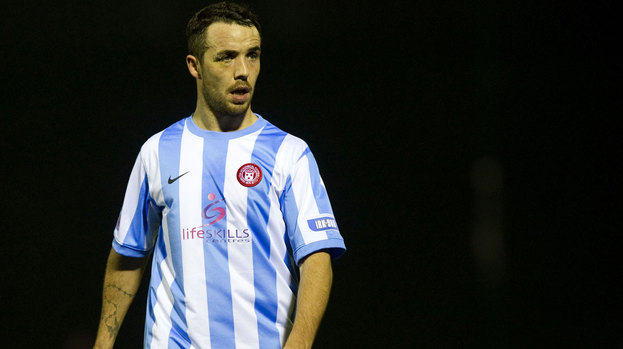 Relegation is one of the most heart-breaking events that any supporter can endure.
That turmoil can be twice as tough for players, who have to endure a sharp hit to their professional pride.
This week we've decided to look at the unfortunate 15 players who have twice suffered through relegation from the SPL.
Neil Barrett (Dundee 2005 and Livingston 2006)
The English defender moved to Dundee on loan from Portsmouth in 2004, and completed a permanent move later that year. He left after the team were relegated in 2005, joining Livingston that summer. He became one of a select few players to be relegated in consecutive seasons when Livi went down in 2006.
Gerry Britton (Dunfermline 1999 and Partick Thistle 2004)
Britton spent the last of his three years at Dunfermline trying unsuccessfully to keep them in the SPL. He had two years at Livingston before returning to the SPL with Partick. He was player-manager for the Jags as they finished bottom in 2004.
Jason Dair (Dunfermline 1999 and Livingston 2006)
Dair joined Dunfermline's relegation fight in February 1999, but could not keep them in the SPL. He stayed at East End Park until 2003 before joining Motherwell. A season later he moved to Livingston, and was relegated with Livi in 2006.
Dougie Imrie (Inverness CT 2009 and Hamilton 2011)
The St Mirren winger first suffered relegation with Inverness in 2009, but returned to the SPL with Hamilton that summer. After two seasons in the top flight Hamilton returned to the SFL in 2011.
John Paul McBride (St Johnstone 2002 and Partick Thistle 2004)
The former Celtic youth player joined St Johnstone in 1999 and was part of the team that unsuccessfully fought relegation in 2002. After a spell with Derry he returned to Scotland with Partick Thistle and was relegated with them in 2004.
Phil McGuire (Dunfermline 2007 and Inverness CT 2009)
The former Aberdeen defender joined Dunfermline from Doncaster in 2006, and was part of the team that lost their fight for survival in 2007. He moved to Inverness, initially on loan, before signing a permanent deal. The Highlanders were relegated in 2009.
Roddy McKenzie (Livingston 2006 and Dunfermline 2007)
Former Hearts goalkeeper McKenzie is another unfortunate enough to suffer back-to-back demotions. He was a virtual ever-present during Livingston's battle with the drop in 2006, before switching to the Pars when they lost that fight. He was no more fortunate that season, as Dunfermline were relegated in 2007.
Tam McManus (Dundee 2005 and Dunfermline 2007)
McManus is unfortunate to be on this list, as he has joined both clubs in an attempt to help them fight fires. He moved to Dundee in January 2005 to aid in their unsuccessful escape, and joined Dunfermline in February 2007 with the same results.
Grant Murray (St Johnstone 2002 and Partick Thistle 2004)
Murray moved from Hearts to St Johnstone in 2001, but was relegated with the Perth side in 2002. He joined Partick in 2003 but was relegated the following summer.
Manny Panther (St Johnstone 2002 and Partick 2004)
Another from the same two clubs, the fantastically named Panther prowled around the first team for doomed St Johnstone in 2002. He switched to Partick in 2003 in time to get relegated for a second time the following May.
Ian Ross (St Mirren 2001 and Partick 2004)
Midfielder Ross arrived at St Mirren from Motherwell but couldn't keep them in the SPL and was relegated in 2001. He was part of the Partick team that failed to beat the drop in 2004.
Ludovic Roy (St Mirren 2001 and Livingston 2006)
French goalkeeper Ludovic Roy was relegated with St Mirren in 2001. On a technicality he suffered a second relegation the following season, on loan at St Johnstone, but we aren't counting loan deals. He moved to Livingston to compete with Roddy McKenzie, but was relegated in 2006.
Gavin Skelton (Gretna 2008 and Hamilton 2011)
Skelton spent seven years with Gretna before their relegation and eventual decline in 2008. He skirted close to a second relegation with Kilmarnock before joining Hamilton in 2010 and being relegated a year later.
Greg Shields (Dunfermline 1999 and Dunfermline 2007)
Shields is one of an unfortunate duo to have played for one relegated team, left forColin Healy
Healy was part of the Livingston team that were relegated in 2006, and was on loan to Falkirk from Ipswich when they went down in 2010.
Andy Tod (Dunfermline 1999 and Dunfermline 2007)
A cult hero at Dunfermline, Tod was the other unfortunate to suffer relegation on two different occasions with the same team.
Nearly men
Just to make sure we resolve some inevitable debate, there are a few players who very nearly meet the criteria of double-dip relegations.
Colin Healy
Healy was relegated with Livingston in 2006, but was only on loan at Falkirk from Ipswich during their relegation from the SPL in 2010.
James Grady
Grady was relegated with Partick Thistle in 2004, and turned out for Gretna in their doomed 2007/08 campaign. However, he moved to Hamilton in January 2008, before they were relegated.
Martin Canning
While Canning was relegated with Hamilton in 2011, he left Gretna in January 2008, before their relegation.
Noel Whelan
The English forward was on the books during Livingston's relegation in 2006. He moved to doomed Dunfermline the following season, but had his contract cancelled in the January before they dropped a division.
More About SPL trivia