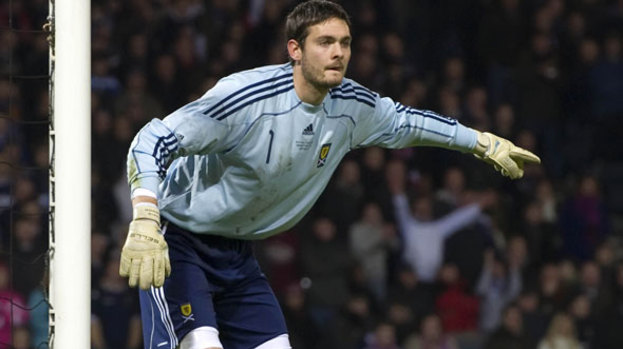 Craig Gordon is willing to move abroad to find the right club who can propel him back to the number one spot for Scotland.
The former Hearts goalkeeper has been released by Sunderland after a frustrating spell on Wearside in which he spent the majority of the last 18 months sidelined by injury.
Gordon lost his place as the national team's first choice stopper during that period and he admits that playing for a team who can give him the platform to impress Craig Levein is a big priority.
He said: "I'm keeping my options open to absolutely everything at the moment, be it Scotland, England or anywhere else in Europe. I don't mind. I'm looking for the best option for me and to get the best deal possible.
"It's important to get back playing football and to get a run of games in a first team. That's what I'll be looking to do and hopefully I can get a good club that will allow me to do that.
"Then I can start looking towards trying to get back into this team on a more regular basis."
Gordon, 29, should make his international comeback against the USA in Jacksonville on Saturday and he has welcomed renewing the "friendly rivalry" with the man who has deposed him in the Scotland team, Rangers' Allan McGregor.
The record-breaking £9m goalie said: "There is a friendly rivalry, there is no animosity between us. We both want to play in the team.
"I've been unfortunate with injuries and missed quite a lot of international games which I didn't expect to do.
"I can't really say I've watched an awful lot of his games. He probably did well, knowing Allan. I know how good a goalkeeper he is."
Related articles
People who read this story also read