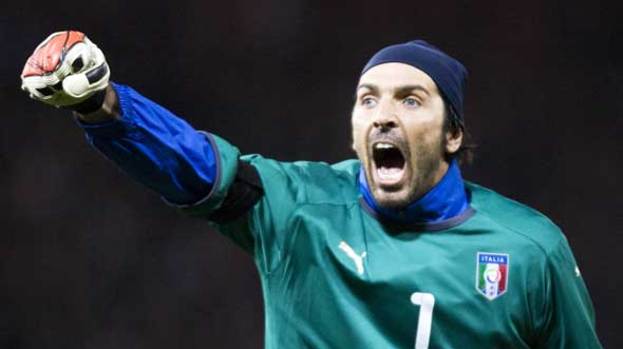 The Italians enter every tournament with as much chance of being champions as they do of receiving a humbling early exit.
World Cup winners in 2006, they were knocked out of the 2010 competition at the very first hurdle. Have lessons been learned?
FIFA Ranking: 12
Elo Ranking: 11
Odds: 14-1
Best Performance at European Championships: Winners (1968)
Despite their regular appearances amongst the final stages at World Cups, Italy have a less proud record at European Championship level. In 1996 and 2004 they were knocked out at the group stage, although they finished runners up in 2000.
The sole Italian triumph came in 1968 when the toss of a coin decided that they should proceed to the final at the expense of the Soviet Union. A 1-1 draw with Yugoslavia meant that the match had to be replayed. Italy won the replay 2-0 thanks to goals from Luigi Riva and Pietro Anastasi.
How they qualified: Winners of Group C
Italy qualified unbeaten from Group C, finishing a whole ten points ahead of their nearest rivals, Estonia. They didn't concede a goal at home in the entirety of qualification, and only dropped points in a 0-0 draw with Northern Ireland and a 1-1 draw with Serbia.
The Boss: Cesare Prandelli
Prandelli started his career at Atalanta but fully came to prominence when he took Verona to Serie A as champions in 1998/99, consolidating them in the top half of the table the following year. After a spell with Venezia he took over at Parma, where he had to endure the tumultuous off-field news surrounding the club's re-emergence as a "newco". A brief spell at Roma was no better for him, and he left for personal reasons.
At Fiorentina he really found his niche, although not without finding yet more trouble first of all. Fiorentina were embroiled in the calciopoli scandal, and so the Champions League place that Prandelli won for the club was stripped from them. Maintaining their gradual progress, he took Fiorentina to two Champions League campaigns before taking the Italian job.
One to watch: Sebastian Giovinco (Parma)
Italy have a tried and tested line up and never seem to go into any tournament with anything other than an experienced side. There are unlikely to be major surprises in the starting XI, but the doubts over the strikers mean that the 21-year-old Parma forward, Sebastian Giovinco, may get a chance.
Since moving to Parma from Juventus last summer he has scored almost a goal every other game, and may well be preferred up front to the volatile Balotelli and the unpredictable Cassano.
Likely line-up:
Italy will likely start with a 4-3-1-2 formation, or a 4-4-2 with a diamond midfield. Gianluigi Buffon will certainly start in goals, with a likely defence of Christian Maggio, Georgio Chiellini, Andrea Barzagli and Domenico Criscito. Andrea Pirlo will either play as the bottom of the diamond or part of a three man midfield, alongside Thiago Motta and Daniele Di Rossi. Riccardo Montolivio seems the most likely option as the advanced midfielder.
Up front is less easy to second guess. Antonio Cassano would definitely start were it not for his season-long absence after an illness. The hunch is that Cassano will be preferred alongside Antonio Di Natale or Mario Balotelli, the latter of which could make for some fireworks.
More About Euro 2012
People who read this story also read